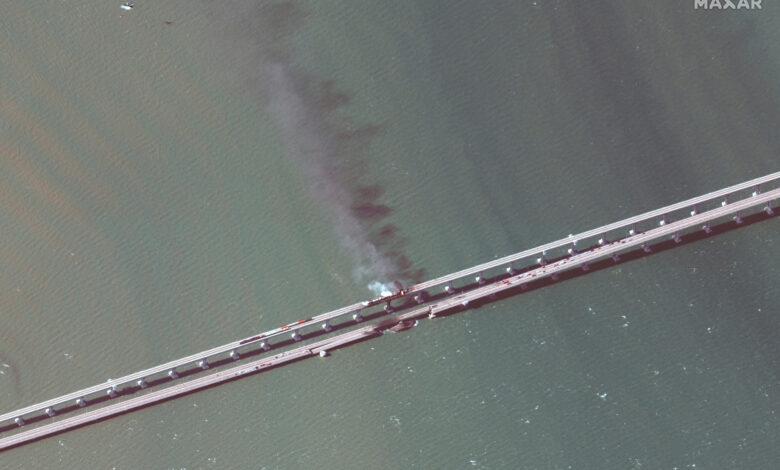 Russian authorities have detained eight people in connection with the deadly blast that damaged the only bridge between annexed Crimea and the Russian mainland on Saturday, state-run news agency RIA Novosti reported Wednesday.
Russia's Federal Security Service (FSB) claimed the "terrorist attack" was organized by the main intelligence department of Ukraine's Ministry of Defense, its head Kyrylo Budanov, and its employees and agents, RIA reported.
"At the moment, five citizens of Russia, three citizens of Ukraine and Armenia, who participated in the preparation of the crime, have been detained as part of a criminal case," RIA reported, citing a report by the FSB and Russia's Investigative Committee.
The report did not reveal where the suspects had been detained.
The FSB report said the explosive device, weighing nearly 23 metric tons, was hidden in polyethylene construction film, RIA reported. Russian officials had earlier claimed the explosion was caused by a truck blowing up on the road bridge.
The FSB report said the explosive device had been sent from the Ukrainian port of Odesa in early August through countries including Bulgaria, Georgia and Armenia, Russian state news agency TASS reported.
Ukraine has yet to publicly comment on the new claims by Russia's FSB and Investigative Committee.
Some context: An explosion early Saturday killed three people and severely damaged parts of the Crimean bridge. Kyiv has not claimed responsibility for the blast on the enormous 19-kilometer (about 12-mile) road and rail link, which was was opened by Russian President Vladimir Putin in 2018.