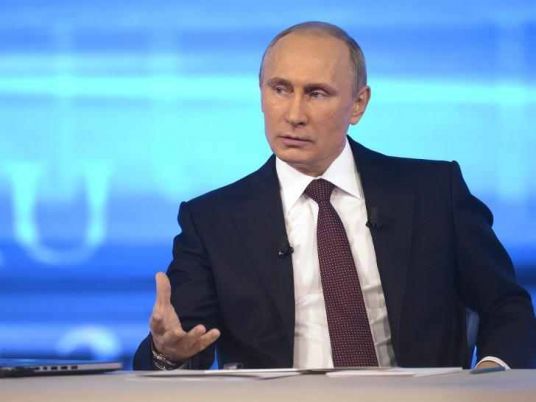 President Vladimir Putin asked Russia's upper house on Tuesday to revoke the right it had granted him to order a military intervention in Ukraine in defence of Russian-speakers there, the Kremlin said in a statement.
The step seems certain to be welcomed by the West as a sign Moscow could be ready to help engineer a settlement in Ukraine's largely Russian-speaking east, where a pro-Russian uprising against Kiev began in April.
Putin's spokesman said Putin's move was aimed at assisting the fledgling peace talks to end the conflict.
Ukrainian President Petro Poroshenko called it a "first practical step" following Putin's statement of support last weekend for Poroshenko's peace plan for eastern Ukraine.
In the March 1 resolution, the Federation Council had granted Putin the right to "use the Russian Federation's Armed Forces on the territory of Ukraine until the social and political situation in that country normalises".
That resolution, together with Russia's annexation of Crimea from Ukraine, helped to send East-West relations to their lowest ebb since the Cold War and led the United States and Europe to impose sanctions on Moscow.
European Union foreign ministers on Monday held out the prospect of further sanctions if Russia did not do more to support a peace process in eastern Ukraine, and also asked it to revoke the March 1 resolution.
Since then, rebels in eastern Ukraine have agreed to a temporary ceasefire to give time for peace talks in a forum where Russia is represented alongside the Kiev government and the Organisation for Security and Cooperation in Europe.
Russian shares rose strongly, with the dollar-denominated RTS index .IRTS rising almost 1 percent immediately after the news, hitting levels not seen since mid-January, before the Ukraine crisis flared up in earnest. The rouble was also higher.
"The president has filed a proposal to the Federation Council on cancelling … the resolution on the use of Russia's Armed Forces on the territory of Ukraine," the Kremlin said in a statement on its website.
Federation Council Speaker Valentina Matviyenko said the chamber would discuss Putin's request on June 25.
The deputy head of the chamber's international affairs committee, Andrei Klimov, said he expected the resolution to pass, according to the RIA Novosti agency.