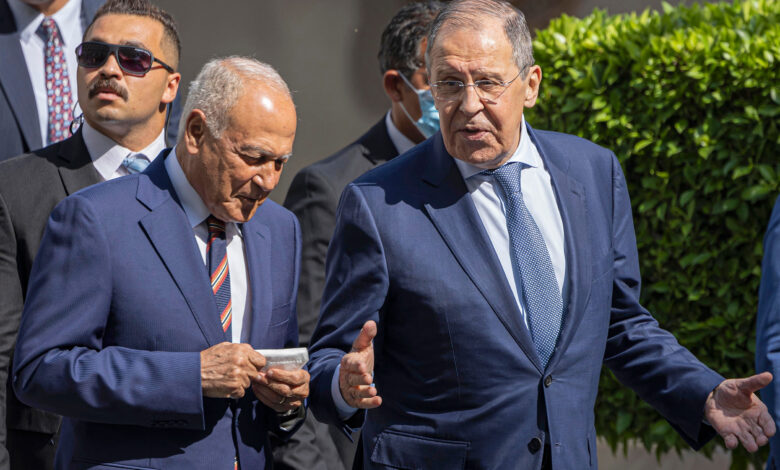 Russia and Turkey will use "military naval forces" to escort vessels carrying Ukrainian grain through the Black Sea into the Bosporus once transport restarts, Russian Foreign Minister Sergei Lavrov said on Sunday.
Lavrov added that "another participant, to be determined" will also be escorting the ships carrying Ukrainian grain, without providing more details.
"Ukraine does the mine clearance, lets the ships out to the high seas, Russia, Turkey, together with another participant, to be determined, accompany the convoys to the [Bosporus] straits," Lavrov said during a meeting with Arab League Secretary General Ahmed Aboul Gheit in the Egyptian capital Cairo.
Meanwhile, Turkey's Defense Ministry said in a statement that "coordination between authorities continues for the first ship loaded with grain to start sailing from Ukrainian ports as soon as possible."
Ukraine and Russia agreed a deal Friday that would allow the resumption of vital grain exports from Ukrainian Black Sea ports — a major diplomatic breakthrough aimed at easing a global food crisis sparked by the war. As part of the deal, grain ships would navigate through a safe corridor in the Black Sea under the direction of Ukrainian pilots, and then pass through the Bosporus strait — an important shipping corridor in northwest Turkey — in order to reach global markets.
Ukraine blamed: During an earlier meeting with his Egyptian counterpart, Lavrov placed the blame on Ukraine for the stagnation in any further negotiations between Moscow and Kyiv.
"We do not have any prejudice against resuming negotiations on a wider range of issues …the Ukrainian authorities, starting from the President down … constantly declare that there will be no negotiations until Ukraine defeats Russia on the battlefield," he said.
"But the longer they continue to demand from Ukraine to fight to the bitter end — and we all understand what and whose end will come — the more people will die and the longer the current situation will persist."