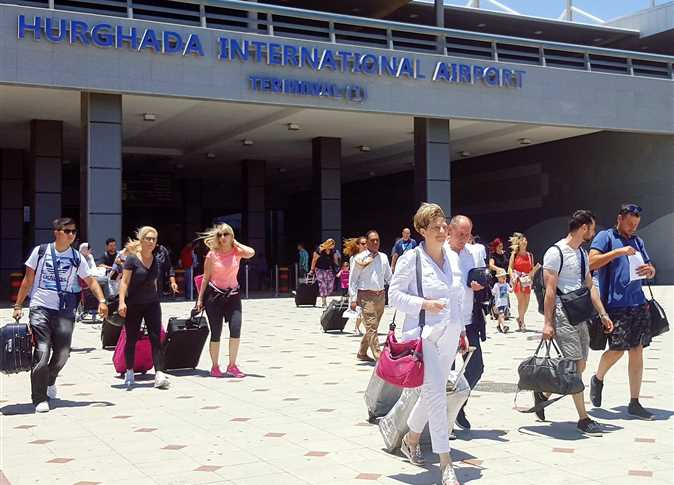 A Russian security delegation charged with conducting an inspection tour of Egypt's Hurghada International Airport praised on Monday the beefed-up security measures taken in Terminal 2.
The delegation included 8 Russian security, inspection and aviation experts, and their visit to Hurghada is part of the process for the resumption of regular charter flights from Russia to Egypt's Red Sea resorts.
Egyptian authorities recently opened Terminal 2 after new construction and development work to bolster security and raise efficiency at the airport in accordance with international standards. This included installation of a new CTX, or a computer tomography x-ray, which functions as an explosive detection device.
The additions to the terminal were requested by foreign inspection committees that previously visited the airport.
The Russian delegation was also briefed during their visit on the latest safety and security precautions in the departure and arrival halls of Hurghada's airport and procedures for inspecting luggage and ensuring the safety of travelers.
On December 19, the first UK flight to Sharm el-Sheikh since the 2015 ban landed at Sharm El-Sheikh International airport, following a four-year hiatus after the bombing of a Russian passenger plane in the Sinai Peninsula shortly after take-off, killing all 224 people on board.
Earlier this January, low-cost airline EasyJet also announced that it would resume flights between the UK and Egypt's Sharm el-Sheikh in June 2020.
Russia's Federal Security Service (FSB) designated the 2015 incident as a terrorist attack and the country also suspended flights to Egypt, but in 2018, Russia's largest airliner Aeroflot resumed flights to Cairo.
Russian tourists held the lion's share of tourism in the Red Sea resort towns of Sharm el-Sheikh and Hurghada until the decision to suspend flights.
Tourism revenues make up 11.5 percent of the total GDP of Egypt, according to the Ministry of Tourism, and it is estimated the suspension cost Egypt's tourism industry US$4 million per day.
Edited translation from Al-Masry Al-Youm