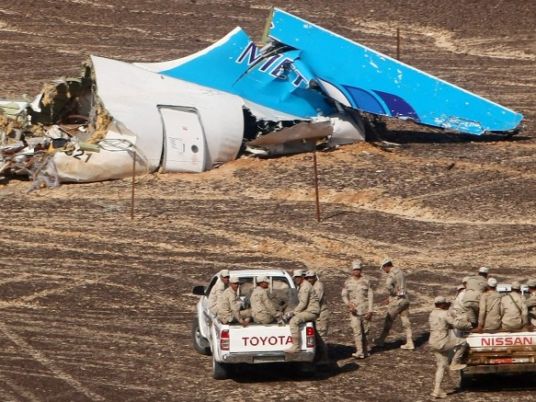 An international committee of experts investigating the downing of a Russian passenger plane in Sinai in October 2015 has confirmed that a bomb exploded on the plane, saying the device was planted in the rear section of the fuselage, Russia Today reported on Tuesday.
Terrorists planted a handmade time-bomb in an area dedicated to storing baby carriages, the committee of experts said, according to Russia Today.
The explosion led to the separation of the plane's tail section, causing complete loss of flight control, upon which the aircraft plummeted to the ground, said the Russian news channel. The experts said that the majority of passengers would have been killed by the sudden loss of pressure while the plane was still in the air.
The committee suggested that the bomb was probably planted by an employee at Cairo International Airport.
The investigators had earlier announced that they had finished examining the wreckage, which they had been carefully assembling in order to find the cause of the crash.
However, Mohamed Zamzam, former Chairman of the Egyptian Airports Company, said there is no proof that the plane was brought down by a bomb on board.
He said that the explosion identified by the committee was a technical issue with the rear part of the plane that had already been flagged up in technical reports.
Zamzam objected to the suggestion that an airport employee had planted the bomb, saying that only the security services are qualified to verify such a claim.
The Russian passenger jet was brought down en route from Sharm el-Sheikh to St Petersburg, with the loss of all 224 passenters and crew on board.
Russia has long said a bomb destroyed the airliner, a theory backed up by Egyptian Presient Abdel Fattah al-Sisi, although international investigators are still seeking evidence of exactly what happened.
The Islamic State terroist group claimed responsiblity for the attack, saying that a group member had planted the bomb, which was hidden in a soft-drink can.
In a statement, the group said it had brought the plane down in response to Russian airstrikes on militant forces in Syria. President Sisi said that the terrorists had intended to strike at both Russia and Egypt, seeking to harm relations between allied nations, both of which are battling against insurgents.
Edited translation from Al-Masry Al-Youm