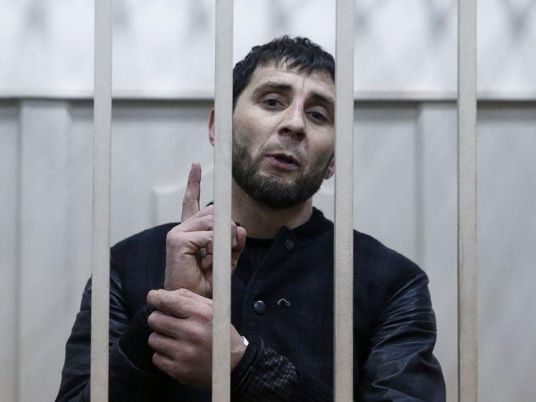 Three suspects in the killing of Russian opposition leader Boris Nemtsov have probably been tortured while in detention, a member of the Kremlin's advisory council on human rights said on Wednesday.
After visiting three of the five ethnic Chechen suspects at Moscow's Lefortovo prison, rights activist Andrey Babushkin said the men detained over the 27 February murder had suffered multiple injuries.
Nemtsov was the most prominent of a string of Kremlin critics to be killed during President Vladimir Putin's 15-year rule. The brazen murder in the heart of Moscow has shocked his colleagues and supporters, who say the investigation is a test of the rule of law in Russia.
Aides to the late liberal politician suspect Russia's state security apparatus is complicit in the crime. Putin has condemned the killing and vowed to bring its perpetrators to justice.
Officials say former Chechen policeman Zaur Dadayev, who is being held along with his cousins, Anzor and Shagid Gubashev, has admitted involvement in the murder. Dadayev and Anzor Gubashev have been formally charged.
"There are reasonable grounds to believe that Dadayev and the Gubashevs were tortured," Babushkin wrote on his website.
He said Dadayev had "multiple injuries" visible on his body, while Anzor Gubashev had abrasions around his nose, wrists and legs that were incurred after he was detained.
Dadayev served as deputy commander of Chechnya's "North" Battalion, which falls under the regional interior ministry. He has been awarded Russia's state order for courage for his service in Chechnya, a volatile North Caucasus region where Russian troops have fought two wars against separatists.
According to Babushkin's account, Dadayev said he was "kidnapped" on 5 March while arriving to the North Caucasus region of Ingushetia from nearby Dagestan.
Dadayev's friend and former colleague Rustam Yusupov was present when he was detained, Babushkin wrote, adding that the man had since disappeared.
Dadayev had been promised that if he admitted to murdering Nemtsov, Yusupov would be released, Babushkin said.
Babushkin called on the human rights council to inform Putin of his findings and said law enforcement agencies should investigate the torture allegations.
Allies of the late Nemtsov are scornful of the state investigation and say blaming the killing on Chechen Islamists is only aimed at deflecting suspicion from Putin, his inner circle or the security services.