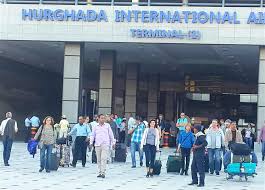 A committee of Russian security and inspection experts will begin inspecting security procedures at Hurghada Airport in the Red Sea governorate, starting on Sunday until mid-December.
The committee will include members of the Russian national security service and the Ministry of Aviation to determine the readiness of the airport to resume Russian aviation and tourism.
The inspection work, according to the statement released Saturday, will check procedures for securing bags and passengers in departure and arrival halls and ensuring the proper presence of security men in the places allocated to them, especially the load areas for bags.
Agencies working at the Hurghada Airport announced preparations to receive the Russian inspection committee to inspect the security procedures followed to secure tourists and aircraft at the airport, and the overall security of the airport.
Sources at the airport confirmed that this visit comes within the actions of the Russian authorities in preparation for the issuance of the final report on the resumption of Russian flights to Egypt which will be presented to Russian President Vladimir Putin.
Edited translation from Al-Masry Al-Youm