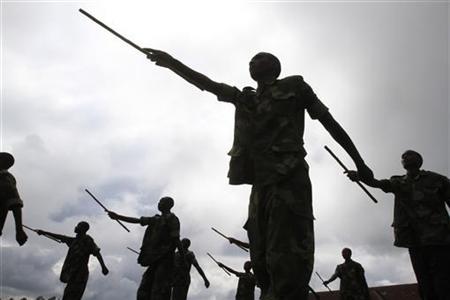 Rwanda accused UN-backed Congolese forces of shelling its territory during a battle with rebels near the border on Monday but said it had no plans to respond militarily to what it called Kinshasa's "provocation."
Tension between the central African neighbors has stretched to the breaking point over an insurgency in Congo's eastern hills that Kinshasa's government says is orchestrated by Rwanda with designs on the region's mineral riches.
"Rwanda does not intend to respond to provocation coming from the DRC," Rwandan Foreign Minister Louise Mushikiwabo told Reuters. "Issues in (eastern Democratic Republic of Congo) are too serious to be subjected to game playing."
A Rwandan army spokesperson earlier said Congo's military had fired artillery, anti-aircraft and tank rounds into the Rwandan border town of Gisenyi, injuring three people, as fighting raged between Congo's army and advancing M23 rebels.
Guests at a Rwandan hotel near the border ran for cover on Monday afternoon as heavy weapons fire thudded nearby, a Reuters witness said.
Sustained gunfire could also be heard across the border from the direction of the airport in Goma, the capital of Congo's North Kivu province where Congolese troops, some manning tanks, took up positions in the city center at nightfall.
The airport has been closed since Sunday. Goma is also the headquarters of the region's UN peacekeeping force.
Congo's government has repeatedly accused Rwanda of backing the eight-month old M23 rebellion as a means of controlling mineral riches in North Kivu.
Kinshasa said on Monday that Kigali may have staged the shelling on its territory as a pretext to invade.
"We have information that Rwanda has been firing into their own territory to justify a larger intervention," Congo government spokesperson Lambert Mende said.
M23 say they are fighting because Kinshasa broke the terms of a 2009 peace agreement that integrated them into the army as a solution to an earlier rebellion.
United Nations experts back the government contention that Rwanda, which has intervened in Congo repeatedly over the past 18 years, is behind the M23 revolt. Rwanda denies involvement.
Refugees flee again
The M23 rebels had halted their advance about 5 km from Goma earlier on Sunday and gave the government 24 hours to start talks or face a new onslaught. Kinshasa swiftly rejected the ultimatum, meaning that the worst fighting in the area in four years was only likely to intensify.
"M23 is defined by the government as a fiction created by Rwanda to hide their criminal activities against the DRC," Mende said. "It is an ultimatum from a fictitious group that has no real value to us."
Congo is rich in minerals including diamonds, gold, copper and coltan – used in mobile phones. But little money has been spent on developing a country the size of Western Europe.
The vast nation was wrecked by wars between 1994 and 2003 which killed about five million people. Many eastern areas are still plagued by violence from a variety of rebel groups.
M23 is led by mutinying soldiers who rose up eight months ago. They have now fought four days of battles to come close to Goma, home to a million people including hundreds of thousands of refugees who have fled rebel advances elsewhere.
The rebels have said they do not plan to capture Goma, which sits at the Rwandan border on the north shore of Lake Kivu.
But fear of such an outcome has provoked a new humanitarian crisis as thousands of refugees abandoned camps in the north of Goma to flee, said Tariq Riebl of the British aid agency Oxfam.
Thomas D'Aquin Muiti, head of a local aid organization, said the rebel reassurances were not to be trusted.
"I think everyone in the town is skeptical of M23. The town is emptying. If the international community allows M23 to take Goma it'll be a humanitarian catastrophe," Muiti said.
The United Nations has about 6,700 peacekeeping troops in North Kivu, including some 1,400 troops in and around Goma.
UN spokesperson Kieran Dwyer said the mission had carried out helicopter strikes in support of the Congolese army at the weekend.
"The situation in Goma is extremely tense," Dwyer said. "There is a real threat that the city could fall into the M23's hands and/or be seriously destabilize as a result of the fighting," Dwyer said in a statement from New York.
UN Secretary-General Ban Ki-moon condemned the rebel offensive and urged M23 to cease its attacks immediately. The UN Security Council made a similar call after an emergency meeting on Saturday.