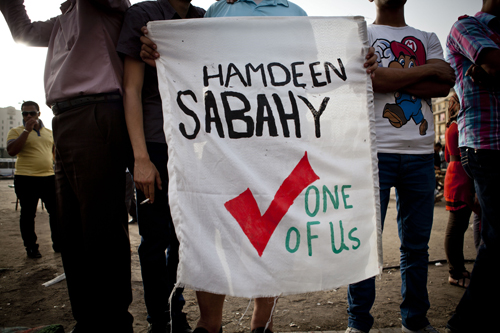 Former presidential candidate and Popular Current founder Hamdeen Sabbahi denied claims circulating on news websites that he said he would run in the upcoming presidential elections "under any circumstances," or that he would support Defense Minister Abdel Fattah al-Sisi for president.
Sabbahi said in a statement issued Sunday that both statements were contradictory.
Sabbahi said he plans to run the presidential race and called for a serious dialogue between revolutionary and youth forces to agree on a presidential hopeful to back, adding that he was ready to be that candidate.
"I did not announce backing Sisi for president and I did not say I would run in the race under any circumstances," Sabbahi said.
The Popular Current meanwhile announced its backing of Sabbahi in the next presidential elections.
Sabbahi is one of the most prominent revolutionary candidates able to stand against the Brotherhood and the NDP, said Popular Current spokesperson Hossam Mo'nes.
Sabbahi's campaign will kick off following the ratification of the constitution, Mo'nes affirmed.
Popular Current member Ahmed Behairy announced a list of 78 public figures who back Sabbahi for president.
The list included head of the Free Egyptians Party Ahmed Saeed, president of Cairo University Gaber Nassar, poet Gamal Bekheet, actor Khaled al-Nabawi, director Khaled Youssef, head of the Lawyers Syndicate Sameh Ashour, 50-member committee spokesperson Mohamed Salmawy, head of the Journalists Syndicate Deiaa Rashwan, editor-in-chief of Al-Masry Al-Youm Yasser Rezq, editor-in-chief of Watan newspaper Magdy al-Gallad and editor-in-chief of Sawt al-Umma newspaper Abdel Halim Qandil.
Meanwhile, the Salafi Da'wa and Nour Party launched a campaign against Salafi sheikhs who issued fatwas rejecting the constitution.
The parties organized seminars and distributed leaflets to explain the articles on Sharia in the constitution,
Other political forces also launched campaigns to endorse the new constitution, and called on citizens to vote "yes" in the referendum.