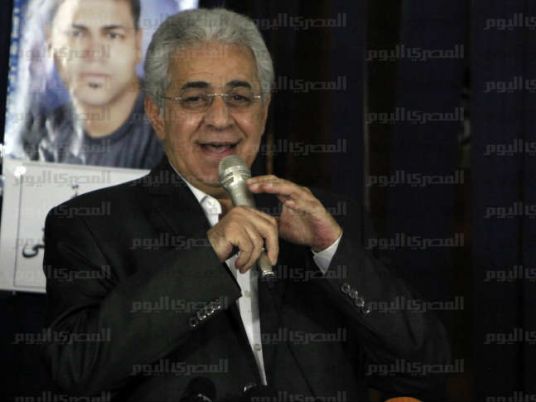 Former Presidential hopeful Hamdeen Sabbahi assigned lawyers from the Karama Party (Dignity) and Popular Current Party to file a complaint against the Sada al-Balad TV channel and TV host Ahmed Moussa for broadcasting 'lies' about Sabbahi.
In a statement issued on Friday, the two lawyers said that the channel uses Moussa to attribute lies to Sabbahi that could harm public security and create divisions between the political leadership of the country.
"The news circulated by the channel is untrue. They have a harmful impact on the society and its unity. The channel intentionally circulates news and attributes it to others," the statement added.
"As the channel continues to spread this poison, Sabbahi has decided to sue Moussa for the sake of the country's interests in respect for the public," it added.
Lawyer Hamed Gabr said that he along with lawyer Tareq Negeida will file the complaint next week, adding that Constitution Party Chief Hala Shukrallah has joined that the cause.
"I received a complaint from Shukrallah and voiced support to sue Moussa. She assigned me and Negeida to file a similar complaint against him for circulating lies about her as well," he added.
Edited translation from Al-Masry Al-Youm