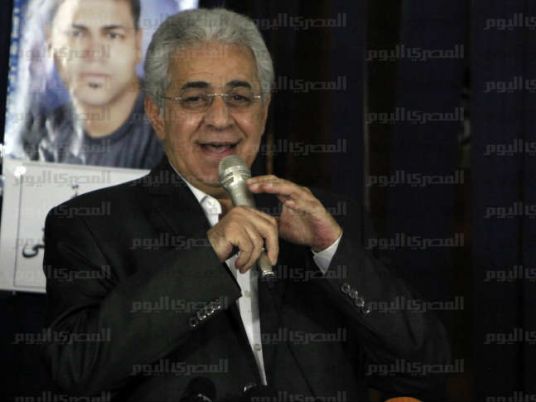 Former presidential candidate Hamdeen Sabbahi said he is not optimistic about the coming parliament, adding that the political and legislative atmosphere in Egypt does not promise a parliament that will express the will of the people. He added that corruption is still rampant in Egypt, while social justice remains absent. At the same time, the harmful policies inherited from Hosni Mubarak's regime are still ongoing.
On the sidelines of a conference on 'Women and Parliament' organized by the Democratic Egyptian Party on Saturday, Sabbahi said Egyptians, especially political groups, should look for new way to carry out the revolutionary goals.
Especially Egyptian women still need to fight for their rights, in order to reach equality with men and remove all forms of discrimination.
Mohamed Abul Ghar, the party head, said that the party is keen on keeping all of the state institutions in place, but that their transparency and effciency must be improved. "We are not with or against the president. The party supports or opposes the decisions, not the person taking them. We will not renounce our principles to compliment anyone in Egypt."
Ziad Bahaa Eddin, vice-chief of the party, said the party will participate in the coming elections, despite its reservations regardign the election laws. He said that participation will help establishing political entities and enhance communication with citizens.
Mohamed Nour Farahat, legal expert, described President Abdel Fattah al-Sisi as a leader who has saved Egypt from 'huge' dangers, who is surrounded by unqualified legal experts, who are "trying to convince him to violate the Constitution".
Edited translation from Al-Masry Al-Youm