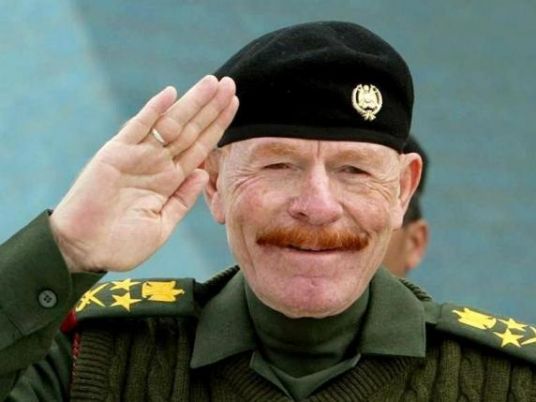 Ezzat Ibrahim al-Douri, former right-hand man to late Iraqi President Saddam Hussein and a leader of Iraq's Sunni insurgency, has been reported killed by Iraqi forces and Shi'ite militias.
Douri was killed in a military operation, Raed al-Jubouri, the governor of Salahuddin province, told Reuters. The pan-Arab television network al-Arabiya showed images of a dead man who looked like al-Douri.
Baghdad has mistakenly announced al-Douri's death several times before, but this time photos are circulating showing a man with features and red hair like his. Al-Jubouri told Reuters DNA from the body would be tested and results released "very soon".
His killing, if confirmed, would be a big blow to the Sunni insurgency, an alliance of former Baathist officers and Islamic State.
"The mastermind of terrorist operations has been killed and he is Ezzat al-Douri," al-Jubouri told Arabiya TV. "Al-Douri is the biggest mastermind behind all attacks that undermined
Iraq
. This news will have an impact on the morale of the fighters."
After the 2003 US-led invasion, Douri was ranked sixth on the US military's list of 55 most wanted Iraqis and a US$10 million (6.68 million pounds) reward was offered for his capture. Iraqi and US officials accused him of organizing and leading the insurgency that swept Iraq in 2005-07.
He evaded capture during the long US occupation as other Saddam aides were killed or put on trial and sectarian civil war engulfed the country.
Karim al-Nouri, a leader in the Badr organisation and spokesman for Shi'ite militias fighting Islamic State, said his forces had been involved in the operation although they thought the target was the leader of Islamic State, Abu Bakr al-Baghdadi.
"We received intelligence from our sources that a VIP was in the city of Hawija and we were waiting to ambush him. Based on our intelligence, it was believed that the man was al-Baghdadi, but it turned out to be al-Douri."
"He was the second man after Saddam Hussein and was the coordinator between the Baath party and IS. The body is now taken for identification, but we are certain it is al-Douri," al-Nouri added. Khdhayer Almurshidy, an exiled spokesman for Iraq's former Baath party, said in comments to Iraq's al-Hadath TV that the reports of al-Douri's death were false.
Al-Jubouri however told Reuters that "a group of security forces went and surrounded an area and those terrorists were killed. Three of them were suicide bombers and blew themselves up. Amongst the bodies was Douri's."
He said the operation was carried out in the Hamrin area near al Alam in Salahuddin province. Iraqi forces did not know al-Douri was there beforehand.
Jubouri described the operation as "a major victory and a strike against the terrorists", referring to Islamic State, a hardline Sunni Muslim offshoot of Al-Qaeda which has taken swathes of
Syria
and Iraq and proclaimed a caliphate.
The Shi'ite-led Baghdad government has mounted an offensive against Islamic State and former Baathists.
Douri, born in Saddam's hometown Tikrit, helped plot the 1968 coup that brought the Baath party to power. He served as vice-president until the 2003 US-led invasion that ousted Saddam.
He was a senior official responsible for northern Iraq when poison gas was used on Halabja in 1988, killing some 5,000 Kurds. He cut short a visit to Vienna for medical treatment in 1999 to avoid arrest for suspected crimes against humanity.