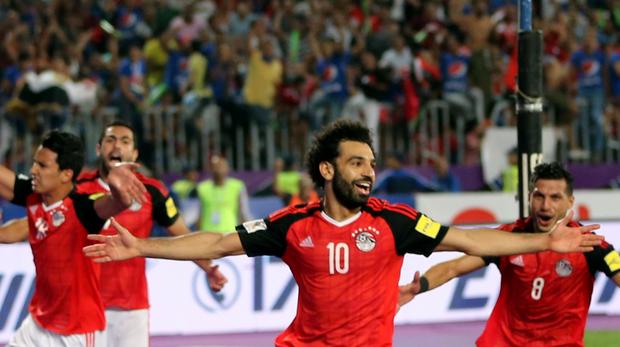 Egyptian football superstar Mohamed Salah might just take part in Egypt's match against Russia tonight.
The forward posted a video on his official Facebook page indicating he is ready to take on tonight's match. "Ready for tomorrow", "100 million strong", read the caption for the video he posted yesterday, which shows Salah talking to the camera saying, "You might think that all this pressure on me to score could be a pressure. It can crush a player…"
"…but that's not how I see it," he adds, "these are my people and can never be a burden. They are my strength and the driver for my creations."
Then comes the indication, "When I step onto the field you will be with me. 100 million strong."
Egypt's National Football Team Manager Ihab Leheta also announced that Salah is ready to take part in Egypt's match against Russia.
"Salah participated in training with his teammates for the entire session and he is ready to play against Russia, according to technical staff," he said.
Leheta's words were echoed by Egypt's National Team Coach Hector Cuper, who told reporters on Monday, "Salah is fit. We always carry out a last physical test before we announce our line-up and today we will have an important test for him to see how he does."
"I think he will be able to play. He is an essential piece in our team," Cuper added.
Manchester United Manager José Mourinho stated that Salah could hurt the Russian team's chances of winning their  World Cup clash tonight, "Egypt has, I have to say one of the fastest players in the world (Mo Salah)," Mourinho told Russia Today's TV channel.
"With the ball and without the ball: he can dribble, he can attack spaces behind defenders."
He added that Salah poses even a bigger danger to the Russian team due to their shortcomings in defense, "I think Russia, they have to drop the block back and they have to react better when they lose the ball, because they concede a little bit against a very naïve team with no physical power (Saudi Arabia), but Egypt can hurt them."
Mourinho revealed that Russia's weak point lies in their cross balls from set pieces, adding that even Saudi Arabia, which had very small players able to intercept a lot of Russia's air balls. On the other hand, Egypt's majority of goals were from cross balls, so Russia's weakness plays particularly well in Egypt's favor.
He added that Russia's impressive 5-0 win against Saudi Arabia is by no means an indication that it can do the same with Egypt, "I don't think Russia can score many goals and I'm saying this after five-nil, but I don't think they can score many goals against good teams."
Finally, Mourinho concluded that Russia's match against Egypt is crucial as the Uruguay match is a difficult one, "The game against Egypt is the crucial match of the group. If not, they will have to go against Uruguay in the searching of point."
This comes as Russia's coach Stanislav Cherchesov press yesterday the Russians were "relaxed" ahead of their game with Egypt, "We're preparing ourselves, we're training according to a plan. We have done everything we planned to do," Cherchesov told a news conference. "We are studying Egypt and we should be able to exploit their weaknesses."
He added that although there is no underestimation for Salah's power, Russia is preparing to face the Egyptian team as a whole, "Every team has players that you need to pay special attention to. Egypt is a balanced team and, of course, Mo Salah is the strongest one in the team, we understand this," Cherchesov added.
"But we aren't playing against one player, we have to take into consideration all the players. We understand how to do this and tomorrow you will see this."
Egypt and Russia are set to clash on Tuesday at 9 pm as the second match for both teams in the World Cup unveils. Russia had a huge win in their opening match against Saudi Arabia as the bears took home a 5-0 victory.
Egypt, however, did not have the same luck as it lost to Uruguay in its opening match on Friday. Egypt, nevertheless, put on a good performance as Egypt's goalkeeper Mohamed Al-Shenawy won "Man of the Match" award, despite a late goal from Uruguay.
Egypt was also shorthanded on the attack side as Egypt's midfielder and top scorer Mohamed Salah could not make the game due to shoulder injury after a clash with Manchester United's Sergio Ramos in the Champions League final. Salah, however, was announced to be 100 percent by both Liverpool's doctor and his agent and will be taking part in the Egypt vs Russia match tonight.
Salah also returned to training on Saturday as AFP posted photos of him taking part in the training camp in Grozny, despite needing help from his teammates to lift his shirt above his shoulder. "Salah participated in training with his teammates for the entire session and he is ready to play against Russia according to technical staff," Egypt's team manager Ihab Leheta told FIFA.com.
Many believe Cuper's decision not to play Salah against Uruguay may have cost him the match.
Mohamed Salah rose to fame after a sensational season with Liverpool in the Premier League that ended with him winning the Golden Boot, among many awards. The forward also single-handedly carried Egypt into the World Cup for the first time since 1990.