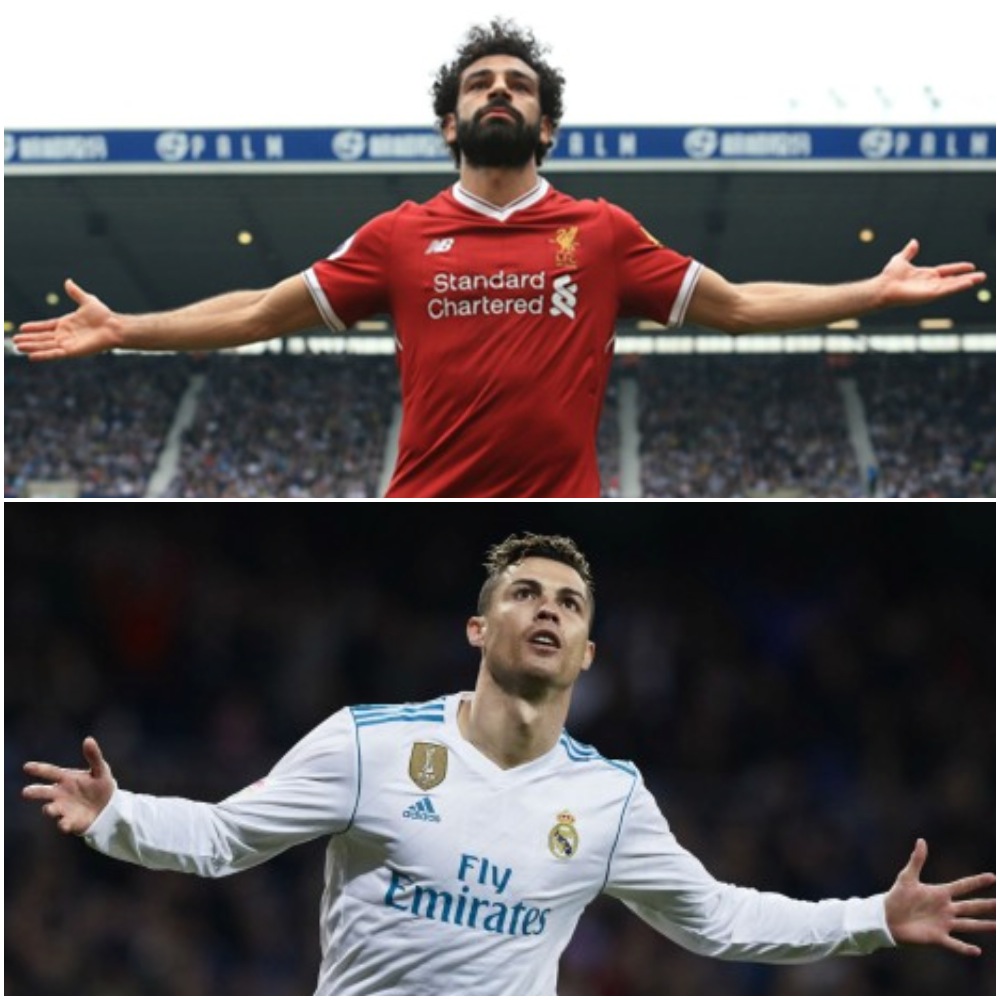 The Champions League final is usually a huge event by itself. The two teams who have proven the strongest in one  of the most prestigious tournaments in the world finally get to meet. However, tonight, Champions League fans are in for a different story as two of the arguably best two players in the world would face off tonight. So, while some eyes are on Liverpool vs Real Madrid, all eyes are on Golden Shoe favorites Mo Salah and Cristiano Ronaldo.
The two players have boasted a sensational season, as they both lock at 44 goals, only one goal short for Europe's top scorer Lionel Messi. Salah has outdone Ronaldo in assists but Ronaldo has a better minutes per goal ratio. Both players have won or achieved a draw all the matches where they've scored the first goal. Ronaldo achieved the feat nine times, with Real winning eight of those times and drawing one.
Liverpool also were undefeated in the 12 matches where Salah scored the opener, winning nine and drawing 3. However, Ronaldo is by far the top scorer of this season's Champions League, scoring 15 goals in 14 appearances, while Salah comes second, with 10 goals.
Ronaldo also beats Salah in expertise; this will be Salah's first major cup final with a club. Prior to that, he has only played the African Cup final with Egypt against Cameroon, losing 2-1. As for veteran footballer Ronaldo, this will be his 17th major club cup final and 18 cup final in total. Ronaldo has won 13 cup finals in the past.
However, when both players met face to face, they further proved that they were so close. A month ago, Portugal met Egypt in a pre-World Cup friendly match. Salah scored the opener, before Ronaldo clapped back twice in injury time.
While as players, both have proven to be two of the best at the moment, both players have had very different on pitch attitudes. On pitch, Ronaldo tends to have a more flashy celebration ritual, occasionally taking off his shirt and often strutting confidently around the field. While Salah boasts a more humble attitude, usually just performing "Sujoud" (prostration to God) when he scores.
It seems these comparisons did not fly by the world press as both players are often asked about one another. Prior to their meeting last Saturday, Ronaldo was asked by the press about Salah, while he hailed the Egyptian player for a "fantastic" season, Ronaldo also pointed out he and Salah were "completely different" in their performances.
"He is completely different. He plays with the left, I play with the right. I'm tall, he's a little bit shorter. I play with the head," Ronaldo was quoted saying by Metro.
"Salah is different but I have to say he has had a fantastic Champions League, a fantastic league season, but Saturday, let's see," the prominent Portuguese player added.
Salah was also asked about Ronaldo, speaking to BTSport he said, "To be honest, I feel great about the numbers but everyone is talking about Ronaldo and [Barcelona's Lionel] Messi because they've been at that level for, like, 15 years, so I'm very proud to see myself compared with these names."
However, as  Salah usually does, he quickly shifted his rhetoric to the game, rather than himself, "I want to make everyone proud. I want to make everyone happy in the city [of Liverpool] and Egypt, all over the world. I need to think about the game, nothing else."
While we do not know who will be crowned as this year's European champions, the numbers so far promise the final to be an unforgettable game.