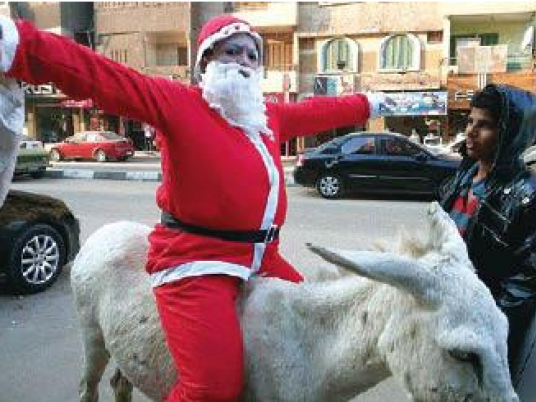 A team of young journalists formed the group "Not Creative," sending a member dressed as Santa Claus into the community to poll Egyptians on their hopes dreams for 2015.
"The team aims to convey the message that smiling and optimism should be the goal of every human being, because sadness and pessimism are not constructive. So we thought of making a report on the wishes of Egyptians for 2015 in a way that brought a smile to the faces of people we met," said Mohamed Galal, a team member.
Team member Ahmed Marei took it as an opportunity to practice his hobby, acting. He was dressed as Santa Claus and used a donkey to roam the streets of Cairo and ask Egyptians about their wishes for 2015, creating a funny atmosphere, especially for children.
Team members had no difficulty recording citizens of different ages and classes using their little camera, according to Galal.
On the contrary, passers-by welcomed Santa Claus with a smile and expressed their hopes for 2015 without any inhibition, he added.
For elderly in Egyptians surveyed, in general they hoped for safety and a good living, said the team.
The young meanwhile said their hopes were to succeed, marry, and immigrate.
Some children polled expressed hope for a bicycle and a bell toy from Santa Claus.
Edited translation from Al-Masry Al-Youm