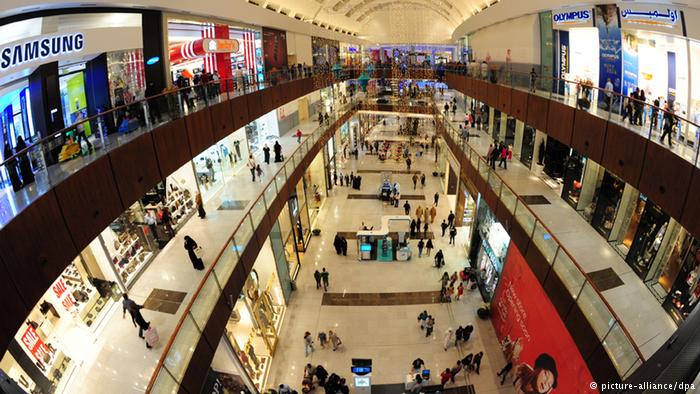 Saudi Arabia and the United Arab Emirates welcomed the new year on Monday with a series of measures aimed at boosting revenue after a persistent slump in the price of oil in 2017 saw their respective budget deficits continue to deepen.
Both Gulf countries introduced a value-added tax (VAT) rate of 5 percent, making them the first states in the region to introduce an additional tax for most goods and services, including food and clothing, as well as water and electricity bills.
The UAE Finance Ministry said that VAT returns would go towards "infrastructure development … (to) upgrade public services … and boost UAE economy competitiveness."
The move marks a major shift in the two super-rich countries, where glitzy shopping malls are regarded by bargain-hunting visitors as among the main tourist attractions.
However, a collapse in the price of oil more than three years ago has led to a ballooning of the two states' budget deficits.
Saudi Arabia has already introduced a series of austerity measures, including cuts in energy subsidies. Nevertheless, the Saudi kingdom, whose oil revenue accounts for 90 percent of state income, saw its economy contract by 0.5 percent and its deficit rise to $260 million (€217 million).
Heeding IMF advice
In the wake of the plummeting price of oil, the International Monetary Fund, the world's leading international lender, had suggested the Gulf states introduce a VAT system to diversify their oil-reliant economies.
Analysists forecast that the added 5 percent tax hike could see the Saudi Kingdom and UAE raise a combined amount of $21 billion in 2018 alone, equivalent to around 2 percent of gross domestic product.
The remaining four Gulf countries — Bahrain, Kuwait, Oman and Qatar — have also stated their intention to introduce VAT but have postponed the move until 2019 at the earliest.
However, none of the Gulf countries have announced plans to introduce a levy on personal income.
Saudis facing hiked gas prices
In Saudi Arabia, Monday's new tax measures coincided with a steep hike in the price of gasoline — the second such rise in as many years.
The new fuel duty saw the price of high-grade petrol rise 127 percent, from 0.9 riyals ($.024) per liter (the equivalent of around $1.09 per gallon) to 2 riyals. The price of low-grade petrol, in turn, rose 83 percent, from 0.75 riyals per liter to 1.37 riyals.
The Saudi Kingdom's official news agency, SPA, said the increases were aimed at "ensuring the optimal utilization of national natural resources."
Despite the move, fuel prices in Saudi Arabia remain among the lowest in the world.