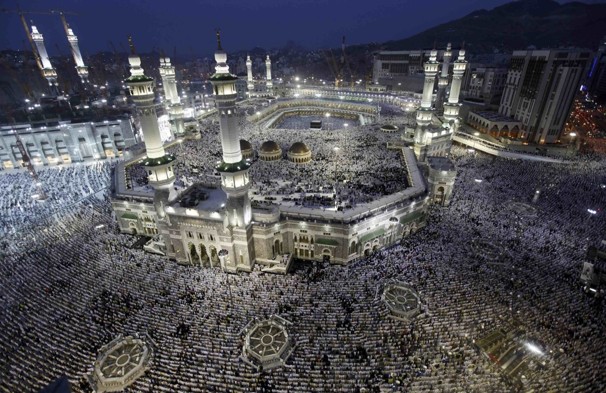 Saudi authorities quickly dispersed a protest by hundreds of Syrian pilgrims calling for the fall of Syrian President Bashar al-Assad and denouncing what they said was international failure to stop bloodshed in Syria, a Reuters witness said.
Protesters held up rebel flags and marched toward the Jamarat Bridge in Mina, east of the Saudi Arabian city of Mecca, where more than 3 million Muslim pilgrims congregated for the annual hajj.
No one was hurt when two police vehicles drove slowly in the direction of the protesters with the sirens on as the officers asked the crowd through loudspeakers to leave the area. The protesters swiftly dispersed and merged with thousands of other pilgrims in the area, the witness said.
Saudi officials made it clear in recent days that they want a politics-free pilgrimage and urged pilgrims to focus on performing the rituals.
The hajj pilgrimage is one of the Muslim faith's so-called five pillars and a religious duty for all Muslims that must be carried out at least once in their lifetime if they are capable. It started on Wednesday and ends on Tuesday.
This year's hajj took place against a backdrop of divisions among Muslims, with Shia Iran and US-allied Sunni countries such as Saudi Arabia, Turkey and Qatar backing opposing sides in Syria's civil war.
Saudi Arabia has led Arab efforts to isolate President Bashar al-Assad's government and has supported the rebels with money and logistics.
At the protest, dozens of security guards already deployed in the area stood by without interfering.
"Syria lives forever despite of you Assad," the protesters shouted as the streamed by a giant wall at Jamarat Bridge used for the ritual stoning of the devil, one of the main rites of the hajj.
Another slogan went: "We don't want Bashar, all Syrians raise your arms up!"
The Syrian crisis also was evident at Mount Arafat, scene for the hajj's main rites, on Thursday when some Syrians held up rebel flags despite a call by Saudi Arabia's grand mufti to avoid raising national and factional slogans.
"We want to make our voices heard because no one seems to listen to us," a man identified as Sabri, 27, a Syrian who lives in Saudi Arabia, said as he held up the rebels' black, white and green flag.
"This is not a political protest. It's more of a humanitarian demonstration because the Syrian question has become a humanitarian one."
The imam of Mecca's Grand Mosque called on Arabs and Muslims on Friday to take "practical and urgent" steps to stop bloodshed in Syria, which has killed some 30,000 people, and urged world states to assume their moral responsibility toward the conflict.
Saudi Arabia has instructed its embassies to issue hajj permits for Syrian refugees in Jordan, Lebanon and Turkey, but most of the Syrians who made it to Mecca were those who live in the Gulf Arab region.