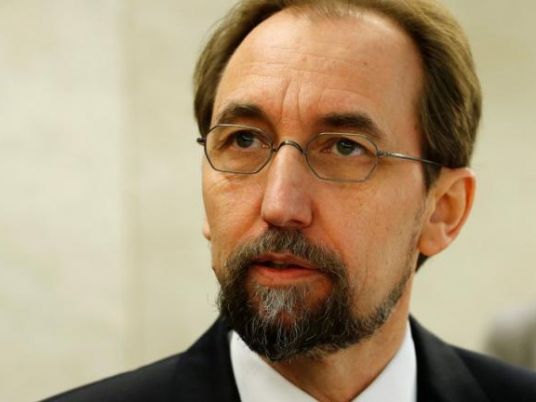 The Saudi-led coalition fighting in Yemen may be responsible for "international crimes", a category that includes war crimes and crimes against humanity, the top UN human rights official said on Friday.
Zeid Ra'ad Al Hussein, United Nations High Commissioner for Human Rights, condemned an air strike in Yemen this week and added that the coalition was "responsible for twice as many civilian casualties as all other forces put together".
More than 6,000 people have been killed since the coalition campaign began a year ago to fight Iranian-allied Houthis and forces loyal to ex-president Ali Abdullah Saleh and to restore the president they ousted, Abd-Rabbu Mansour Hadi.
Coalition spokesman Brigadier General Ahmed al-Asseri said on Friday major combat operations were less extensive than earlier in the war and there were "good signs" the UN might soon restart peace talks between warring Yemeni factions.
Houthi officials traveled to Saudi Arabia this month for secret talks on the conflict that led to a pause in fighting on the border, a main battlefront of the war, and a prisoner exchange.
Asseri said that despite those "positive signs", any formal peace talks would have to be carried out by Hadi's internationally recognized government, not by Saudi Arabia, and under a UN umbrella.
Tuesday's strike near Mustaba in northwest Yemen hit an outdoor market and killed more than 100, a provincial health director and a UN official in Sanaa said, making it one of the deadliest attacks in the war.
"These awful incidents continue to occur with unacceptable regularity. In addition, despite public promises to investigate such incidents, we have yet to see progress in any such investigations," Zeid said in a statement.
"We are possibly looking at the commission of international crimes by members of the Coalition," Zeid said. International crimes includes war crimes, crimes against humanity and grave violations of human rights.
Saudi Arabia enjoys diplomatic backing and military help from the United States and other Western powers for its campaign in Yemen.
The Obama administration is "deeply concerned by the devastating toll of the crisis in Yemen," a senior official said. It is urging all sides to comply with international humanitarian law and to minimize harm to civilians by taking steps including not positioning armaments or military equipment in places where civilians are known to gather.
Houthi attacks condemned
Asseri urged the UN not to collect its information from those, like the provincial health director, employed by the Houthi-controlled administration in Sanaa.
"We use the information coming from the (pro-Hadi) Yemeni army because they are on the ground. The attack was under the control of the Yemeni army. It gave the target," Asseri said in a phone interview.
He forwarded a graphic prepared by Hadi's government that said the target of the air strike was a military area where Houthi forces had gathered and that "they deceived people by saying it was a market".
A statement issued on Friday by Hadi's government said it had formed a committee to look into the bombing and whether it was the result of an air strike or of shelling by the Houthis, whom it accused of often blaming the coalition for attacks they carried out themselves.
But Zeid's staff who visited the site of Tuesday's deadly strike and interviewed witnesses at al-Khamees market "found no evidence of any armed confrontation or significant military objects in the area at the time of the attack", Zeid said.
Coalition strikes "have hit markets, hospitals, clinics, schools, factories, wedding parties — and hundreds of private residences," he added. There were 24 children among the 106 reported dead at Mustaba.
Zeid also condemned indiscriminate ground attacks carried out by the Houthis and their allies which have killed civilians, saying these may also amount to international crimes.
Asseri told Reuters: "Today, we have less of what in military science we call major combat, where we use a lot of forces. Today, most of the forces are in the phase of stabilizing," he said, adding that military operations continued, particularly near Sanaa.
The pause in fighting on the border, and the breaking of a Houthi siege on the city of Taiz in the south, both mediated with the help of local tribes, was part of a wider effort to reinvigorate the political process, he said.
"When you increase the political process you decrease the military one to give the opportunity to talk. Today we want to give the ability to encourage and relaunch again the talks to come up with a political solution," he said.