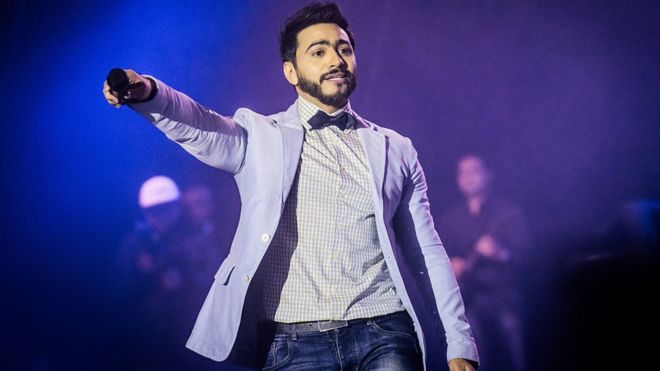 A video that surfaced on social networking site Facebook featured Saudi Grand Mufti Abdel Aziz Al-Sheikh on a television program expressing his support for a concert set to be held by Egyptian singer Tamer Hosni in Saudi Arabia in March, stressing that it is Islamically permissible for anyone to attend it.
"The Kingdom is safe and stable and has a good government that is close to God. These decisions are taken through careful consideration and I wish them luck in organizing the concert and lead the nation to what is best."
A caller to the television program asked the Sheikh about whether it is was permissible to pray the nightly prayer ('ishaa) after the concert, to which he replied that it was possible as long as it was still prayed in group prayer (gamaa) by the attendees of the concert.
The Sheikh further said that the evidence that music would be unpermissible Islamically (haram) is weak and that all religious edicts (fatwa) stipulating that music is haram is based on unsubstantiated sayings from the prophet.
Saudi Arabia's General Authority for Entertainment (GAE) announced In February that Tamer Hosni would be giving a concert for the first time in the country in the King Abdullah Economic City on March 30.
Saudi Arabia, often seen as the most conservative Sunni Muslim country in the world, has been witnessing progressive changes under Crown Prince Mohammed Bin Salman, suggesting a liberalization of the hardline traditionalist policies of the Saudi ruling elite. 
It organized its first ever jazz festival in late February, lifted a 30-year-old ban on cinemas and has also announced plans to establish the country's first-ever Opera House. 
 
The reforms in the country's cultural sector come as part of the Kingdom's "Vision 2030," whose aim is to double the contribution of the entertainment sector to the GDP from three to six percent. Salman has previously said that his country aims to localize 50 percent of the leisure sector after Saudi citizens spent US$22 billion on entertainment activities abroad each year.
https://www.youtube.com/watch?v=Bo-Qz3dkR3Q