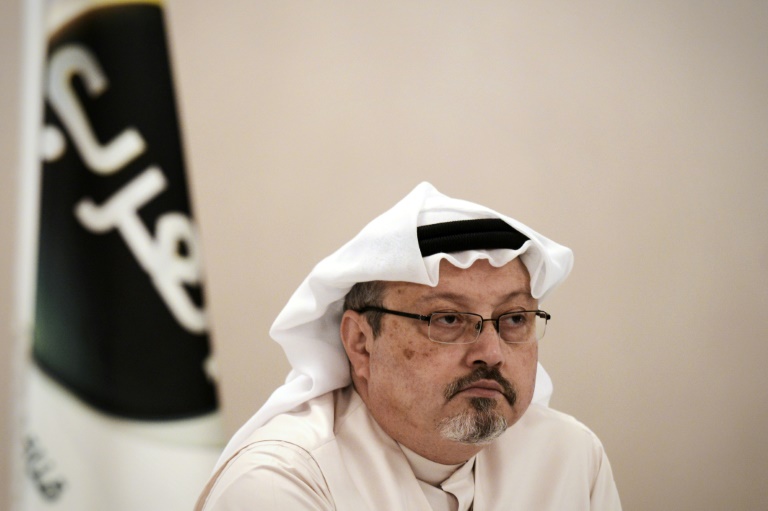 Saudi Arabia dismissed on Saturday accusations that Jamal Khashoggi was ordered murdered by a hit squad inside its Istanbul consulate as "lies and baseless allegations", as Riyadh and Ankara spar over the missing journalist's fate.
A Saudi delegation was in Turkey for talks on the case, which threatens not only to harm fragile relations between the two countries but also to do serious damage to the reformist credentials of Crown Prince Mohammed bin Salman and the kingdom's ties to the West.
As the controversy intensified, the Washington Post reported Turkish officials had recordings made from inside the building that allegedly proved their claims Khashoggi was tortured and killed at the consulate.
Big names from media and business have already cancelled appearances at a major conference in Riyadh this month and both the IMF chief and the US treasury secretary made their attendance conditional on the findings in the case.
In the first Saudi ministerial reaction to Turkish accusations that Khashoggi was killed, Interior Minister Prince Abdel Aziz bin Saud bin Nayef condemned "what has been reported in certain media concerning false accusations against Saudi Arabia… in the case of the disappearance of citizen Khashoggi".
"What has been reported on the matter of orders to kill him is a lie and a baseless allegation," the minister said in comments carried by the official Saudi Press Agency.
He added the kingdom was "in compliance with international laws and conventions".
Lagarde said she had to "conduct the business of the IMF in all corners in the world".
"So at this point of time my intention is to not change my plans and to be very attentive to the information that is coming out in the next few days."
Bloomberg, the Financial Times, The Economist and The New York Times withdrew as the event's media sponsors, while the CEO of ride-hailing app Uber, Dara Khosrowshahi said he would no longer be attending unless "a substantially different set of facts emerges".
'Arguments, shouting'
Ankara and Riyadh have been on opposing sides in the region on key issues, including the ousting of the Islamist Egyptian government and last year's Saudi-led blockade on Turkey's regional ally Qatar. Yet as key Sunni Muslim powers they have maintained cordial relations.
But despite Riyadh's agreement on Tuesday to let Turkish authorities search the Saudi mission, the probe has not yet taken place. The two sides have been in intense contacts to resolve the issue, local media reported.
Pro-government Turkish newspaper Sabah said officials wanted to search the building with luminol, a chemical that allows forensic teams to discover blood traces, but the Saudis had so far refused.
Officers were looking into sound recordings sent from a smart watch Khashoggi was wearing when he entered the consulate to a mobile phone he gave to his Turkish fiancee outside, Hatice Cengiz.
Turkish daily Milliyet reported "arguments and shouting" could be heard on the recordings.