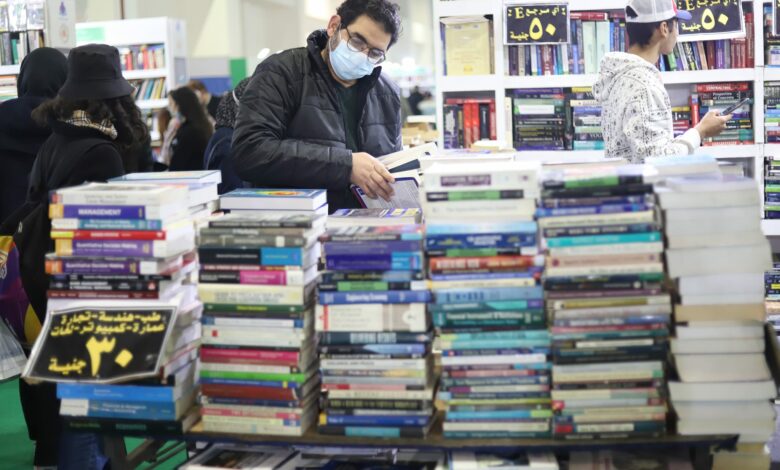 On Friday, the second day of the 54th Cairo International Book Fair, held under the supervision of the Ministry of Culture, Al-Masry Al-Youm published the schedule of various events that will be held, Friday, as announced by the Ministry of Culture.
Artistic Events:
Special art shows will be held, Friday, January 27, at the Plaza 2 Theater, at the following timings:
– From 1 pm to 2 pm
An artistic performance is scheduled by the Port Said Folklore Ensemble, which is affiliated with the General Authority for Cultural Palaces.
– From 2:30 pm to 3:30 pm
A Jordanian folklore show will be presented by the Amman Municipality troupe.
– From 4 pm to 5 pm
A show by the "Salam" choir of the National Center for Child Culture will be held.
Cultural Events:
In addition to artistic performances, a number of cultural events are scheduled to be held at the Plaza 1 Theater, specifically at the Salah Jahin Hall, at the following times:
– The exhibition's "Two Personalities" event will be held at 2 pm, in a session entitled "The Roba'yat Salah Jahin".
-At 4 pm, a session entitled "Us and Heritage" will be held, attended by Abdel Rahim al-Kurdy, Abdullah al-Ghadami from Saudi Arabia, and Mohamed Hassan Abdullah.
It will be moderated by Mahmoud al-Dabaa.
-At 6 pm, a session will be held with Endowments Minister, Mohamed Mukhtar Gomaa, to be moderated by Hassan Madani.
The Cairo International Book Fair has launched an e-application to help book lovers download on their mobile phones to access all available services at the Book Fair's e- platform and learn about the latest news and events.
A free download of the Cairo Book Fair application is now available on Android and Apple phones.
The CIBF opens its doors to the public daily from 10 am to 8 pm starting from January 26 to February 6, except for Thursday and Friday which will extend from 10 am until 9 pm.
Jordan participates in the 54th session as a guest of honor, and the late writer Salah Jahin is the personality honored this year by the fair.
Children's writer Kamel Kilani is honored during the Children's Fair as a pioneer of children's literature, not only in Egypt, but also in the Arab world.