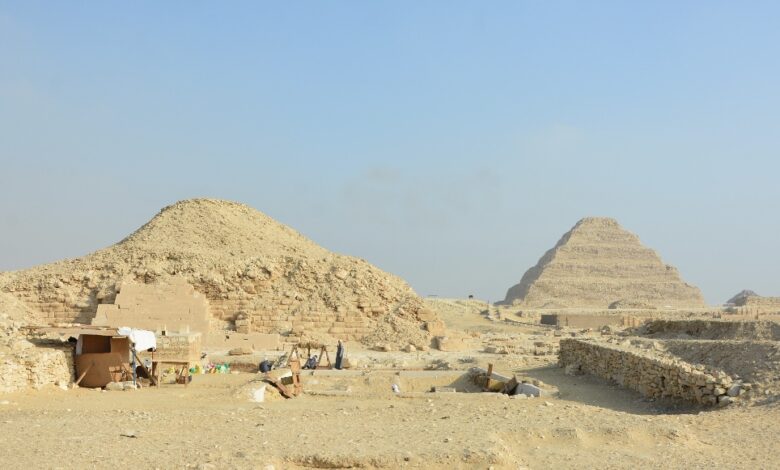 A team of researchers from Ludwig Maximilian and Tübingen Universities in Germany, in cooperation with the National Research Center in Cairo, discovered some of the secrets of the ancient Egyptian mummification process and the materials used in it.
This was achieved by analyzing the organic remains that were found inside the pottery pots discovered in a mummification workshop.
The pots were discovered by the Egyptian-German archaeological mission headed by the late professor Ramadan Badry, in Saqqara in 2018, according to Mostafa Waziri, Secretary General of the Supreme Council of Antiquities.
The results of the research study finding were published on February 1, 2023, in the Nature science journal.
The mission found that the names of the organic remains used during the mummification process written in the ancient Egyptian language on the surface of pottery vessels.
There were also the names of the organs and parts of the body of the deceased, in which these organic materials were used during the stages of the embalming process.
The team of specialists and researchers studied and analyzed the organic remains in the utensils discovered from the workshop and reached their chemical characteristics in an attempt to reach the mechanisms and secrets of the mummification process in ancient Egypt.
They were able to identify for the first time three important bits of information. 
Firstly the mummification process at the same time: including the materials used, its name in ancient Egyptian and the part of the body mummified.
Waziri stressed the importance of this discovery as it contributes significantly to re-reading the familiar texts about ancient Egyptian mummification.
The team was able, for the first time, (after comparing the materials that were identified) were able to determine the appropriate utensils and materials used for embalming each specific part of the body accurately.
Research and studies have revealed that a number of materials used in the mummification process were imported from abroad.
The discoveries showed that they were from areas such as the Mediterranean region, tropical rainforests, and Southeast Asia, which indicated links and communication between those regions in that early period.
The research also showed concluded that the utensils used in the mummification process bore the names of the materials it contained.
The usage contributed greatly to knowing the names of the many mummification components, Susanna Beck, deputy head of the mission, said.
The remains that were found in the utensils were isolated partially to determine its chemical components, she said.
For example, the "Antio" substance, which was used and mentioned a lot in describing embalming processes, was translated as aromatic gum, she said.
However these results of the recent study showed that it is a mixture of cedar wood oil and juniper oil (cypress) and animal fats, Beck added.
She said the study was done by using gas chromatography and mass spectrometry of the discovered materials.