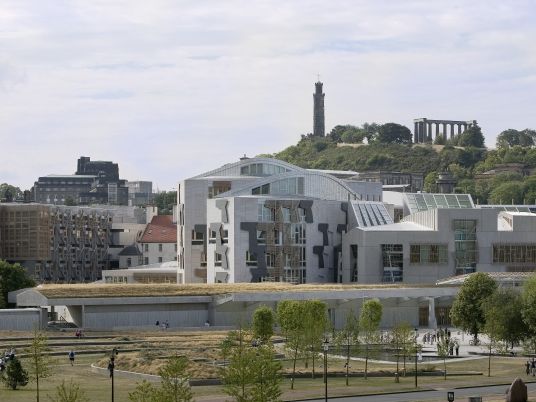 Scottish nationalist leader Nicola Sturgeon will include triggers for a second independence referendum in the party's manifesto for the 2016 Scottish election, she said in an interview with the Sunday Herald newspaper.
British Prime Minister David Cameron in May ruled out another independence referendum despite spectacular gains by the Scottish National Party (SNP) in that month's election, saying Scots had "emphatically" rejected a breakaway last year.
Scots voted 55-45 percent against independence in a September 2014 referendum but the May 7 general election saw the SNP take 56 of Scotland's 59 seats in the Westminster parliament.
"Our manifesto will set out what we think around the circumstances in which, and the possible timescales in which, a second referendum might be appropriate," Sturgeon told the paper in an interview. "It will then be down to people to accept whether they vote for that manifesto."
Citing sources close to Sturgeon, the newspaper reported the trigger list would be limited but could include a general option allowing for a referendum in the event of a dramatic, unforeseeable event such as Cameron embarking on what they termed an illegal war.
A vote to divide England and Scotland would amount to the break-up of the United Kingdom, the world's fifth largest economy.
When asked for comment on the Sunday Herald report, a spokesman for Cameron said: "The people of Scotland voted to remain part of the United Kingdom last year and we will see through our commitments to give them the extra powers."
ANOTHER GO?
SNP leader Sturgeon has previously said there could only be another independence vote if Scots voted for a party which proposed one in a Scottish parliamentary election.
Scottish elections are due in May 2016 but so far Sturgeon has refused to say directly whether she would include a referendum pledge in her manifesto.
After Jeremy Corbyn was elected as the new leader of the opposition Labour Party on Saturday, Sturgeon cautioned that if his party failed to show swiftly it could beat Cameron's Conservatives in the next national election then desire for Scottish independence would rise.
"If Labour cannot quickly demonstrate that they have a credible chance of winning the next UK general election, many more people in Scotland are likely to conclude that independence is the only alternative to continued Tory (Conservative)government," she said.
"The reality today is that at a time when the country needs strong opposition to the Tories, Jeremy Corbyn leads a deeply, and very bitterly, divided party."
Sturgeon has previously warned that if England voted to leave the European Union in a referendum on membership due by the end of 2017, then Scotland could seek a second independence referendum if its people voted to stay in the EU.
(Additional reporting by Kylie MacLellan; Editing by Michael Holden and Catherine Evans)