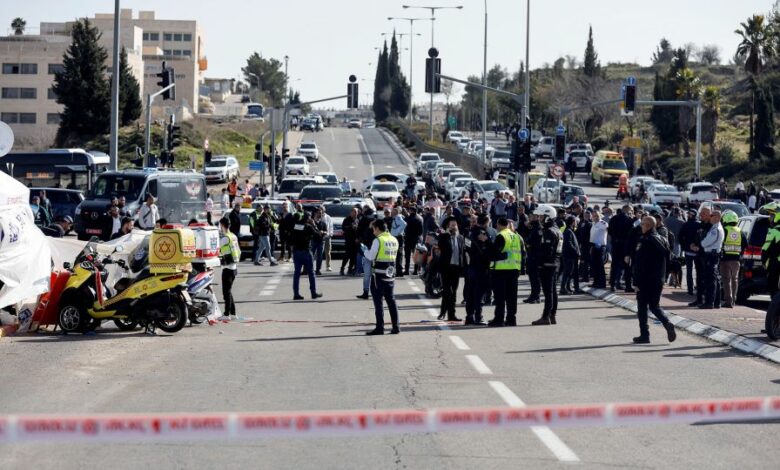 Jerusalem
CNN
 —  A car drove into several people at a bus stop in
Jerusalem
on Friday, killing a man and a young child in what Israeli police described as a "ramming terror attack." A second child died of his injuries Saturday.
Yaakov Yisrael Paley, 6, and Alter Shlomo Lederman, 20, died Friday at the Ramot intersection, an area Israel considers to be a neighborhood in northern Jerusalem.
The boy's brother, 8-year-old Asher Menachem Paley, who was "critically wounded" during the attack, died in hospital on Saturday, according to a statement by the hospital, Shaare Zedek.
He was pronounced dead after "many teams from the trauma unit, from the ER, pediatric intensive care, pediatric surgery and neurosurgery fought for many hours for his life," according to the statement.
The 42-year-old father of Asher and Yaakov was injured in the attack and remains in the hospital in "moderate" condition, according to Hadassah Medical Center. His 10-year-old son has been released "after being treated in the emergency room by the medical team."
Two other people were also injured in the incident.
The suspect, who was "neutralized" at the scene, according to police, was identified as Hussein Qaraqe, a 31-year-old from east Jerusalem.
Local journalists in the neighborhood reported that Israeli police had arrested Qaraqe's wife, father and brother, sharing videos of what they said were the arrests.
It occurred on land that Israel captured from Jordan in 1967 and then annexed, so Palestinians and many international observers consider it to be a settlement on occupied land.
Suspect released from hospital just before attack
The suspect, Qaraqe, had been released from a hospital in Tel Aviv the night before the incident, his uncle told CNN.
He had been in hospitalized for a month due to a back injury, said Adnan Qaraqe.
"He had a car accident a while ago and severely injured his back which led to more than five surgeries on his spine. He was on very heavy medication and painkillers which affected his nervous system."
Qaraqe said he did not know if the hospital where his nephew had stayed was a mental hospital or whether Hussein was hospitalized for back pain. He said there would be records at his nephew's house that would clarify, but the house has been sealed by Israeli authorities.
Israeli Prime Minister Benjamin Netanyahu gave orders on Friday for the house to be sealed and demolished. Residents of Issawiya told CNN that Qaraqe was not the owner of the house, but had rented it.
Israeli National Security Minister Itamar Ben Gvir also ordered police checks of vehicles in that neighborhood in the wake of the ramming – and wanted to go further, he said at the scene of the incident.
"I instructed the police to set up roadblocks around Issawiya and stop one by one – one by one – and to simply check every vehicle. I wanted to do a full closure, but there is a legal question about it – and we will discuss it. In any case, I instructed the police to deploy roadblocks, and they are deploying roadblocks around Issawiya," he said.
US Secretary of State Antony Blinken on Friday responded to the incident in a strongly worded statement on Friday, saying, "We strongly condemn today's terrorist attack on civilians, including children, at a bus stop in Jerusalem and express our condolences to the families of those killed."
"The deliberate targeting of innocent civilians is repugnant and unconscionable. The United States extends our deepest sympathies to the injured, and we stand firmly with them in the face of this attack," the statement read.
CNN's Abeer Salman contributed to this report.