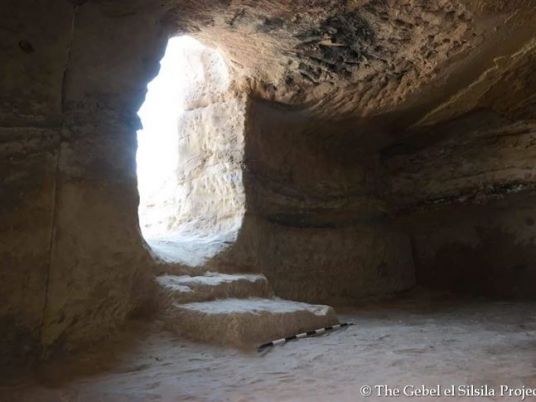 The Tourism and Monuments Investigations Department in Aswan has foiled an attempt to rob two archaeological tombs in the Aga Khan Mausoleum area, west of the River Nile.
The department was notified by Nasr Salama, head of the Aswan and Nubia Archaeological Department, who pointed to attempts to rob the two ancient tombs on Sunday.
Security personnel arrested eight persons allegedly involved in the robbery, with parts of a tomb and a mummy in their possession.
The two tombs, which date back to the 26th Dynasty of pharaonic Egypt, are located on the eastern and western sides of the Aga Khan area.
The suspects will be referred to the prosecution for questioning and possible charges.
In June 2105, Antiquities Minister Mamdouh al-Damaty said six archaeological tombs dating back to the 26th Dynasty were discovered near the Aga Khan Mausoleum. The tombs contained stone and wooden coffins, mummies, statues of faience representing the four sons of Horus, amulets and small wooden statues of Horus.
"This is the first time tombs of the late dynasty have been discovered in this area," Damaty said.
Nasr Salama, director of artifacts for Aswan and Nubia, said that most tombs have a set of 30 steps that leads to the entrance. "They are divided into three or four rooms that have no inscriptions," he said, pointing out that this style is completely different from other tombs in the area. Most are carved into the mountain, while these are carved into a plateau.
However, in the years prior to this discovery, tomb raiders in the area had already been searching for treasures, identifying some tombs that were largely unguarded and making away with the contents.
In 2014, officials reported that at least 10 tombs had been robbed in the Aswan area, part of a string of robberies on archaeological sites in western Aswan. At the time, officials reported that around 16 mummies and four coffins were rescued during one robbery attempt in Aswan.
Edited translation from MENA