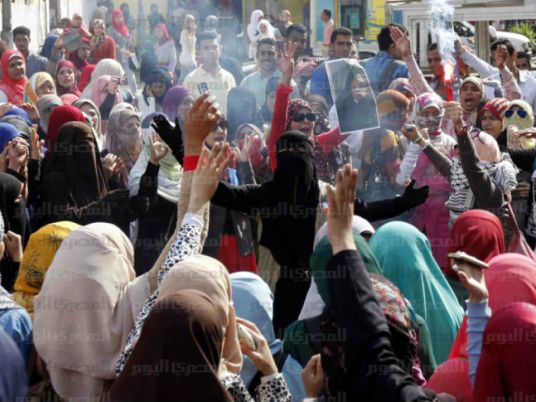 Forces of the Giza Security Directorate stormed the Cairo University campus on Wednesday to face demonstrations by Brotherhood students commemorating the Mohamed Mahmoud Street incident.
The protesters chanted slogans against the police, the army, President Abdel Fattah al-Sisi and the university president, Dr. Gaber Nassar, and lit firecrackers.
Meanwhile Brotherhood students of the Al-Azhar University's girls branch in Nasr City also staged demonstrations.
The security forces and the personnel of the Falcon Security Company intensified presence on campus and at the main gates to prevent the demonstrators from going out to the street.
A student protest group opposed to the Egyptian government has vowed a surprise during protests planned on Thursday as demonstrations condemning the ouster of former president Mohamed Morsy by the current regime continue at universities across the republic.
"The students' uprising against the regime will move beyond universities," said Mahmoud al-Azhary, a member of Students Against the Coup, Al-Masry Al-Youm reported.
"Protests on Monday and Tuesday have largely managed to deliver a message to the world that students have not kneeled to injustice and are proceeding towards the fall of the repressive regime," he said in press statements Wednesday.
"Thursday will mark the end of a heating student week through new surprises prepared by the students for the regime," Azhary added, vowing that the upcoming protest events will exhaust security forces.
A number of students have been killed and others jailed over clashes with security at various universities across the country following protests condemning the ouster of Morsy by incumbent president Abdel Fattah Al-Sisi last year.
Students staged 209 protests throughout October, 185 of which took place at 25 universities, according to a report by the Egypt-based International Development Center's Democracy Index.