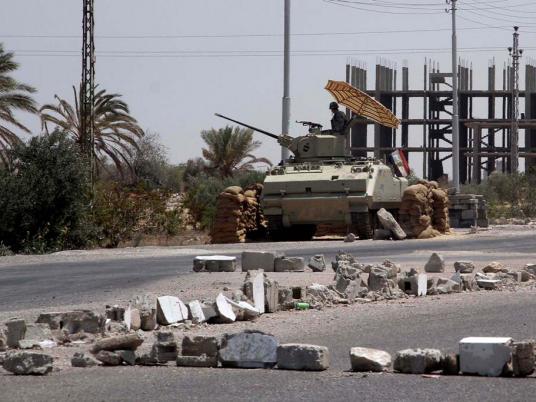 Security forces in North Sinai increased safety measures at checkpoints on the Arish-Rafah international road on Friday.
Authorities sent bullet-proof cabins to the area to protect security personnel from gunfire and RPG shells in the wake of repeated armed attacks in the area.
The tightened security measures come after harsh sentences were issued against 18 defendants accused of attacking an Arish police station and a police checkpoint in front of the Bank of Alexandria in July 2011.
Fourteen of the defendants were sentenced to death and four were sentenced to 25 years of hard labor. Six others were acquitted.
In Rafah, the armed forces started building walls around permanent checkpoints on Friday, including the checkpoint where 16 soldiers were killed by gunmen on 5 August 2012.
Armored vehicles also began combing the Gaza border area in an attempt to defect infiltrators and curb the smuggling of goods through illegal tunnels.
Edited translation from Al-Masry Al-Youm