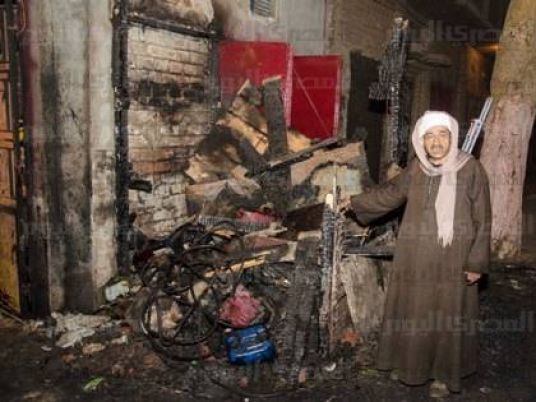 The security forces in Minya governorate contained sectarian clashes in Kom el-Loufi village of Samalut city after anonymous attackers set fire to some houses that were under construction, against the backdrop of religious rites at the house of a Coptic Christian.
Minya Security Directorate deployed riot police forces at the village, and cordoned off its borders to arrest perpetrators of the incidents.
Minya prosecutor's office ordered a team to inspect the scene, and police detectives collected information on the incident from eyewitnesses and suspects.
Preliminary investigations revealed that the incidents began with clashes between Muslim and Coptic Christian youth on Thursday, after Copts held prayers at the house of a man called Fahmy.
According to the investigations, Muslim families noticed groups of Copts planning to pray and perform ecclesiastical rituals inside a house without permission. This led to verbal altrecations between the two sides, followed by violent clashes with bricks and stones.
The crisis has been contained but renewed the same day at night, after anonymous attackers set ablaze houses that were under construction thought to belong to Christians from the community.
After the fires were put out, Major General Essam al-Bedeawi, Governor of Minya, held a meeting with the elders and leaders of the village's families, strongly denouncing the recent events in the village and calling for everyone to calm down.
Security forces arrested 15 suspects for involvement in the incidents.