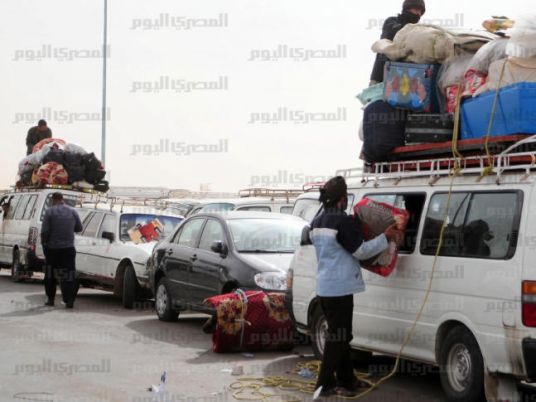 The number of Egyptians who have crossed from Libya into Egypt through the Salloum border crossing reached 32,828 since mid-February when the evacuation of Egyptians began, an Egyptian security official said.
Marsa Matrouh Security Director Anani Hamouda was cited by state television as saying on Sunday that this was the number of Egyptians who had returned through the crossing as of midnight on Saturday.
This brings the total number of Egyptian evacuees to around 44,000, after more than 11,000 returned to Egypt by air.
Evacuation of Egyptian nationals from Libya started after Egypt's air force launched airstrikes on militant targets in its restive neighbour on February 16.
The strikes were in response to a video that surfaced a day earlier and showed the beheading of 21 men, 20 of whom were Egyptian nationals.
Their killings are believed to have been carried out at the hands of men who belong to a Libyan division of the Islamic State fighters in Iraq and Syria.
The beheadings were part of a string of attacks that affected Egyptian citizens, who have often been caught up in the Libya crisis.