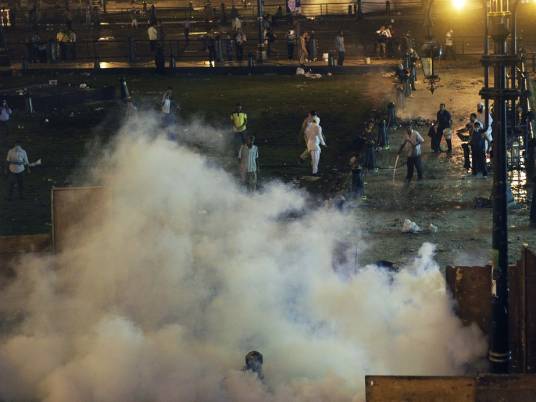 Seven people died and 261 others were injured in fresh clashes between supporters of toppled President Mohamed Morsy and securiy forces, the Health Ministry said Tuesday.
Clashes in Cairo and Giza after around 9 pm left seven people dead, bringing the total number of fatalities since the Islamist president's overthrow to at least 92.
Violence continued into the early hours Tuesday.
Two people died in Ramses Square clashes, four in the Nahda and Giza squares and one in al-Bahr al-A'zam Street.
Violent clashes broke out when the police attempted to disperse protests by pro-Morsy demonstrators in and around October 6 Bridge, a vital link between downtown Cairo and the east of the capital.
Security forces fired tear gas to attempt to disperse the crowds while pro-Morsy marchers reportedly responded with stones and Molotov cocktails.
Protesters demanded Morsy's reinstatement as Egyptian president.