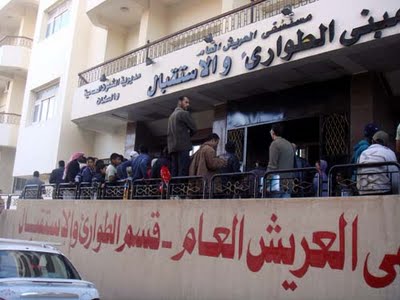 Dr. Tareq Anis, a professor of andrology and head of the Pan Arab Society of Sexual Medicine, said that the rate of erectile dysfunction among men in Egypt has increased lately due to political tensions in the country.
"Eight percent of divorce cases are caused by sexual problems," he added.
Speaking before a conference for the Pan Arab Society of Sexual Medicine, Anis said on Thursday that international rates of erection problems among men from all ages are estimated at 18.6 percent, which means that one out of every five men suffers from erection problems. This percentage rises to 52 percent among men above the age of forty. Even though there is a lack of national statistics on the percentage of Egyptian men who suffer from the condition, there are indicators that point out that the percentage is currently higher than international rates.
He added that several studies have shown that one third of those who request medical assistance as a result of erectile dysfunction are less than forty years of age, even though the condition is more common among older men.
Anis added that the causes of erectile dysfunction are the same as those of circulatory failure and are therefore triggers of heart attacks and apoplexy.
Anis also said that treating erectile dysfunction requires treating underlying chronic conditions and changing the style of life to a healthier one.
Dr. Saeed Abdel Azim, professor of psychiatry at Cairo University, said, "intimate sexual relations require peace of mind. The country suffering turmoil over the past period may be inhibiting the desire for sexual intercourse."
He said, "News about killings, protests and bombings cause the brain to send negative signals to sexual centers, which reduces sexual desire among men and women alike."
Edited translation from Al-Masry Al-Youm