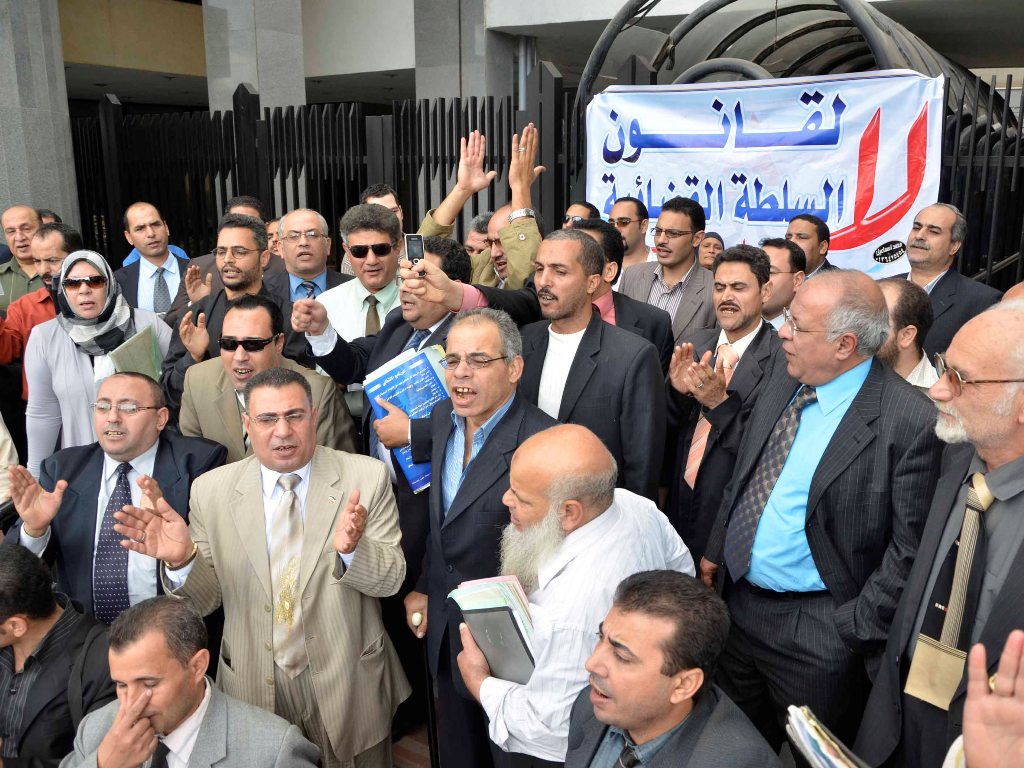 Prime Minister Essam Sharaf met Monday with five lawyers to discuss the current crisis between the Judges Club and the Lawyers Syndicate over draft amendments to Judicial Authority Law 142/2006.
The meeting was attended by former Lawyers Syndicate President Hamdy Khalifa and Mohamed Hashim, as well as Montasser al-Zayat, Mohamed Kamel and Mortada Mansour, three nominees for the post of Lawyers Syndicate president in the elections slated for 20 November.
During the meeting, the group discussed a number of proposals to resolve the crisis, but no final decision was reached, said an informed source.
The source told Al-Masry Al-Youm that during the meeting, Sharaf presented the lawyers with a proposal by Hossam al-Gheriany, president of the Supreme Judicial Council, suggesting a judicial authority draft law sans the articles the lawyers object to, including one that grants judges the right to detain anyone violating court proceedings, including lawyers.
According to the source, the lawyers who met with Sharaf declined to express an opinion on the proposal, stressing that they represent only themselves and cannot negotiate this issue without going back to the Lawyers Syndicate first.
Sharaf will hold another meeting with representatives of both the lawyers and judges to bridge the way to direct negotiations, the source went on.
In a statement to the press, Deputy Prime Minister for Political Affairs Ali al-Selmy said the draft law "is nothing more than a proposal at the moment and it has not yet been presented to the cabinet or the Supreme Council of the Armed Forces."
He went on to say that the government "is not on the side of the lawyers or the judges, but is working on solving the crisis in the country's best interests and the interests of both parties."
Translated from the Arabic Edition