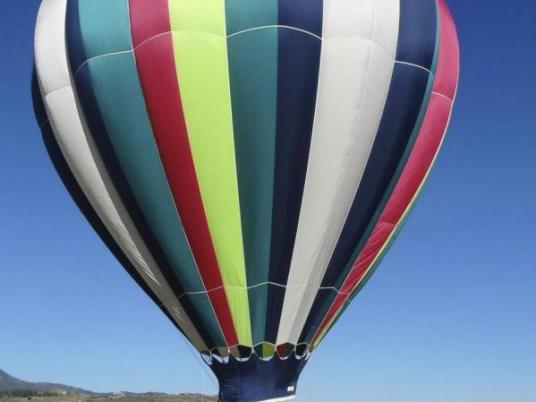 A balloon carrying foreign tourists on a sightseeing trip south of Egypt's city of Luxor crashed on Friday morning, leading to the death of one tourist and injuring seven others, according to the state-run newspaper Al-Ahram.
A number of officials who have been quoted by Al-Ahram on condition of anonymity said the incident was caused by strong winds that caused the balloon to fall. The balloon was carrying 20 people.
Another 12 tourists who were on board were reported to not to be hurt.
The 36 -year- old  tourist who was killed is a South African national, though the nationalities of the other tourists injured are still unknown, Al-Ahram reported.
A message by Egypt's meteorological service warning of strong winds was sent out on Friday morning, especially for the Nile River delta region and northern Egypt.
In 2013, Egypt witnessed one of the deadliest balloon crashes when a balloon flying over Luxor caught fire and plunged about 1,000ft (305m) to the ground, crashing into a sugar cane field killing at least 19 foreign tourists.
Egypt has been battling to revive the badly-affected tourism sector after years of political turmoil, that followed the 25 January uprising. This was exacerbated by the 2015 Russian plane crash, which killed all 224 passengers and crew on board, most of them Russian tourists.
Different countries have placed travel bans on flights to Egypt's destinations and demanded certain security measures be implemented in Egyptian airports for the resumption of direct flights to be considered.