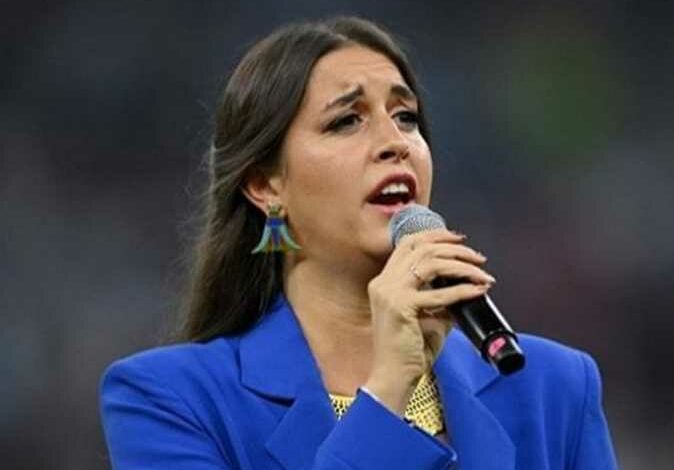 Adorned in blue lotus flower earrings and a necklace styled after Nefertiti's golden necklace, Egyptian singer Farah al-Dibani performed during the closing ceremony of the Qatar 2022 World Cup where she sang the French national anthem before the start of the final match between France and Argentina.
France chose Dinani to sing the French national anthem at the World Cup closing ceremony.
Alongside her captivating voice, Farah al-Dibani's attractive appearance won the praise of many, as she chose a look that represents her Egyptian identity – past and present.
The lotus flower, decorated with blue gradations of color symbolized beauty and love in ancient Egyptian life. The flower was used to adorn the crowns of temples and the jewels of kings.
Dibani was the first Egyptian singer to join the Paris Opera Academy in 2016.  She learned to play the piano at the Conservatoire, and joined the German Saint Charles School.
Dibani, originally from the governorate of Alexandria, received many awards and honors.
The most prominent of these was the title of Best Young Opera Talent from the Opernwelt Magazine, the French Medal of Arts and Letters with the rank of Knight from the French embassy in Cairo, and the third prize at the International Giulio Perotti Singing Competition in 2013, in addition to the prize of the Kammeroper Schloss Rheinsberg festival in 2017 and the Wendy Wagner Foundation Award in 2018.
In April at the election victory ceremony of French President Emmanuel Macron, she sang the French national anthem.