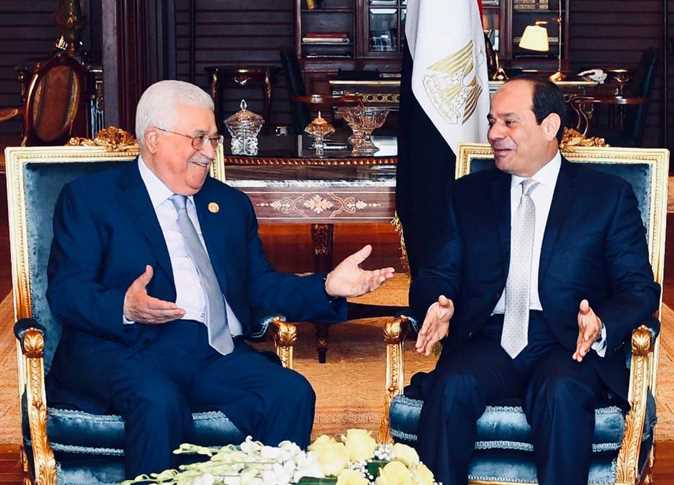 President Abdel Fattah al-Sisi held a meeting with Palestinian president Mahmoud Abbas on Saturday in Cairo, discussing Egypt's efforts of achieving national reconciliation between Fatah and Hamas movements.
Official Spokesperson of Egypt's Presidency Bassam Radi stated that Sisi stressed the deepness of historic relations between the two countries and the top priority of the Palestinian cause within Egypt's foreign policy's agenda.
Sisi said that his country would exert efforts to retain the rights of the Palestinian people with respect to international UN regulations.
Radi added that Abbas praised the Egyptian efforts for achieving national reconciliation and emphasized his keenness tp continuing cooperation with Egypt on the different topics.
Sisi and Abbas also discussed several Arab and regional issues and the different challenges facing the Palestinian cause.
According to political professor Tarek Fahmi,  Abbas met several writers and journalists including Chief of the Supreme Council for Media Makram Mohammed Ahmed on Friday, calling them to visit Jerusalem.
Previously on November 3, Sisi met Abbas in Sharm al-Sheikh, stressing steadfastness of the Egyptian position on Palestine based on the two-state solution and the establishment of a Palestinian state on the 1967 borders, with East Jerusalem as its capital.
Edited translation from Al-Masry Al-Youm