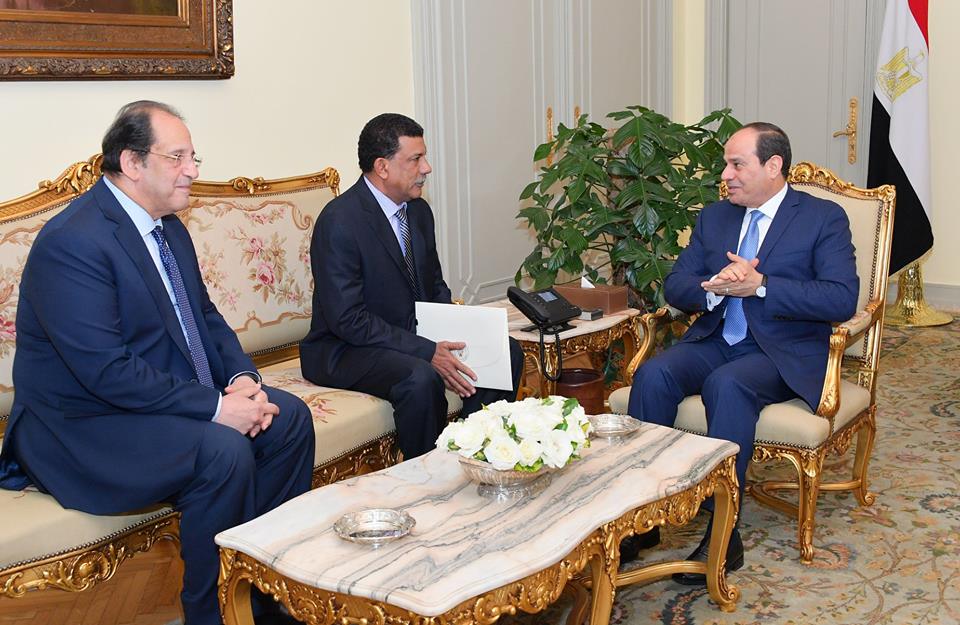 Cairo will host two summit-level meetings on Tuesday to discuss the Sudanese and Libyan issues, featuring President Abdel Fattah al-Sisi and six other regional leaders.
Presidential spokesperson Bassam Rady said that President Sisi, the current chairman of the African Union, is due to host the consultative summit of Sudan's regional partners.
Rady said that the summit will discuss developments in Sudan's situation, enhancing joint action and discussing the most appropriate ways to deal these current developments and how to contribute to supporting Sudan's stability and peace.
The summit will discuss Libya's latest developments and ways to contain the current crisis and revive the political process in Libya and eliminating terrorism.
President Sisi on Monday afternoon also received the head of Sudan's National Security and Intelligence Service Abu Bakr Demblab, in the presence of Abbas Kamel, head of the Egyptian General Intelligence Service.
Rady said that Bakr delivered to President Sisi a message from the head of Sudan's Transitional Military Council, Abdel-Fattah al-Burhan, which included a briefing on Sudan's developments.
Burhan expressed hope that Egypt's role in supporting Sudan's security and stability will continue to overcome this stage.
The president conveyed to the Sudanese envoy his greetings to Burhan in Sudan, and expressed appreciation for the Sudan's Transitional Military Council's handling of the country's current situation.
Sisi affirmed Egypt's full and unconditional readiness to offer all means of support for Sudan to benefit the Sudanese people.
The summit will be held in the presence of the Presidents of Chad, Djibouti, Rwanda, Congo, Somalia and South Africa, along with African Union Commission Chairperson Moussa Faki, Ethiopian Deputy Prime Minister, Adviser to the President of Southern Sudan for Security Affairs, the Ugandan Foreign Minister, Kenyan Foreign Minister, and the Undersecretary of the Ministry of Foreign Affairs of Nigeria.
Sisi will also host the troika summit meeting, to be attended by the Presidents of Rwanda and South Africa, members of the African Union Troika, the President of the Republic of Congo in his capacity as Chairman of the Committee on Libya in the African Union, as well as the Chairperson of the African Commission.
Edited translation from Al-Masry Al-Youm