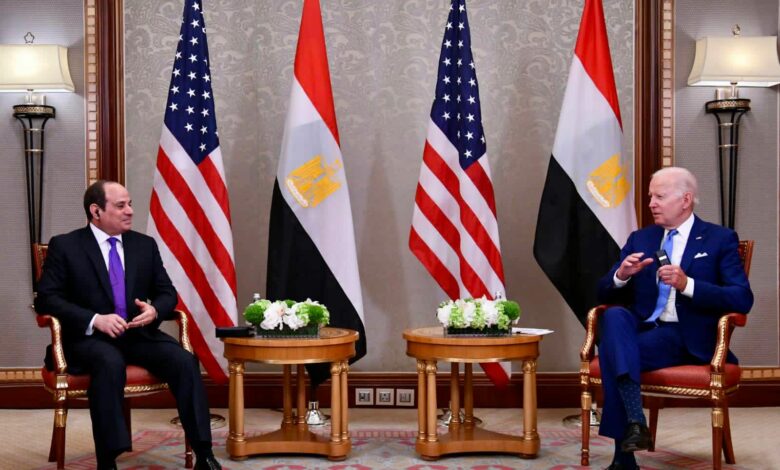 Egyptian President Abdel Fattah al-Sisi on Saturday met with US President Joe Biden in Jeddah as part of the activities of the Jeddah Summit for Security and Development.
The Egyptian presidential spokesperson Bassam Rady explained that Sisi welcomed his first meeting with Biden, stressing Egypt's keenness to strengthen its distinguished partnership.
He stressed the importance of this partnership in promoting peace and stability in the Middle East, and Egypt's desire for more coordination with the US on various issues in the region.
Rady explained that the meeting reviewed various aspects of bilateral cooperation between Egypt and the US, in several fields, especially regarding cooperation in confronting the repercussions of the food crisis and the disruption of energy supplies.
President Sisi assured of Egypt's firm position, based on the necessity of strengthening the pillars of countries going through crises and strengthening their national institutions.
The path to peace
They also discussed the Palestinian issue and ways to revive the peace process.
Sisi affirmed Egypt's firm stance towards the Palestinian issue and the importance of reaching a just and comprehensive solution that guarantees the rights of the Palestinian people and the establishment of their independent state in accordance with international references.
Egypt's President also affirmed his nation's keenness to cooperate with the US to discuss ways to revive and advance the process of Palestinian-Israeli negotiations.
The US President expressed deep appreciation from his nation towards Egypt's efforts to establish peace in the region, in addition to its essential role in the truce between the Palestinian and Israeli sides and the initiatives for the reconstruction of Gaza.
The developments of the Grand Ethiopian Renaissance Dam (GERD) issue were also discussed.
Sisi stressed Egypt's firm position regarding the necessity of reaching a binding legal agreement for the process of filling and operating the dam, in a manner that preserves Egyptian water security and achieves the common interests of all Nile basin countries.