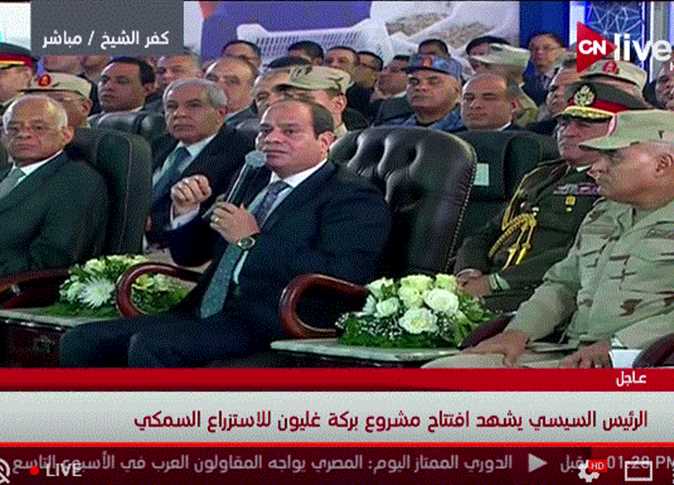 Egypt's President Abdel Fattah al-Sisi inaugurated on Saturday a number of projects in Kafr al-Sheikh Governorate, including the largest fish farm in the Middle East.
Sisi was received by Minister of Defense General Sedki Sobhi, Prime Minister Sharif Ismail, and Ali Abdel Aal, the Speaker of the House of Representatives.
The fish farm is an integrated fish production project that includes an industrial fish city, built with the help of Chinese expertise on an area of 12,000 feddans in Berket Ghalion.
Major General al-Sayed Nasr, governor of Kafr al-Sheikh, said that the projects that the president inaugurated today cost more than LE 4 billion pounds and that during the visit, Sisi would lay the foundation for the largest commercial investment area in the Middle East in the area of Metoubas. It would be constructed on an area of 10,000 feddans, and would provide around 250,000 job opportunities.
Nasr added that some new factories will be opened in the industrial area of Metoubas on an area of 1660 feddans, a new University Hospital at a cost of LE360 million, a hotel of Ahmed Zewail School of Science and Technology, and three central hospitals.