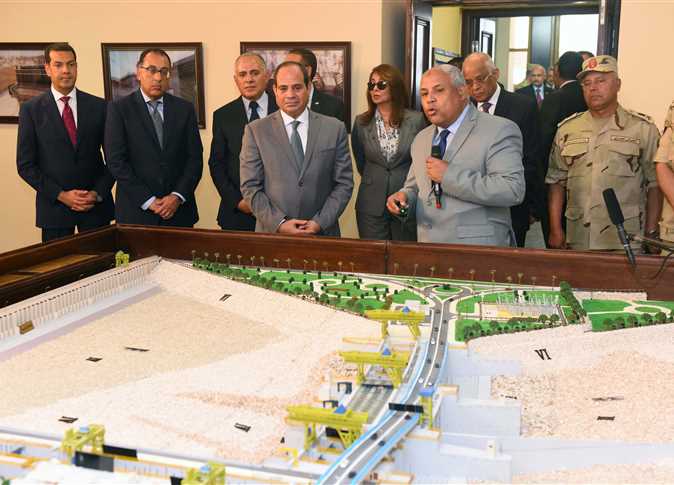 President Abdel Fattah al-Sisi on Sunday oversaw the inauguration of several national projects in Assiut, Sohag and New Valley, such as the Sohag National Museum and the new Assiut barrage with its hydroelectric power plant.
The president also saw through video conference the opening of 25 underground wells in the New Valley governorate.
Minister of Water Resources and Irrigation Mohamed Abdel Ati said that the Assiut barrage project is multi-purpose and provides many job opportunities.
He added that the Assiut barrage and its hydropower station cost LE 6.5 billion, and represents a turning point in the history of major installations on the Nile river.
The project serves 5 governorates: Assiut, Menya, Beni Suef, Fayoum and Giza.
Ati added that the project also contributes to the improvement of irrigation over 1.6 million feddans (unit of area), in addition to generating electricity, improving traffic and river navigation, as well as the bridge on the top of the barrage consisting of 4 lanes linking east and west of the Nile.
Minister of Electricity and Renewable Energy Mohamed Shaker reviewed the hydropower strategy, stressing that his ministry seeks to utilize every drop of water.
He said that the Assiut barrage has a capacity of generating 32 megawatts, noting that the work began in 2012, and the total cost of the project about LE 612 million.
The ministry also explained that the hydropower plant of the barrage has four turbines with a capacity of 8 megawatts, to a total of 32 megawatts. The generated power is expected to be 245 million kWh annually, saving around $15 million annually if the same amount of energy was produced using conventional fuel.
After the opening of the Assiut barrage, President Sisi headed to Sohag Governorate where he opened the Sohag National Museum, which includes hundreds of rare artifacts and is largest project in over a quarter of a century to attract tourists to the governorate.
The project previously faltered for years, due to funding issues.
Sohag Governor Ayman Abdel Moneim stated that the museum's inauguration reflects the government's keenness to complete projects of Upper Egypt museums. He predicted that the museum will contribute strongly to reviving domestic and international tourism in Sohag.
The president inspected the contents of the museum and listened to a detailed explanation of the museum's holdings.
Edited translation from Al-Masry Al-Youm