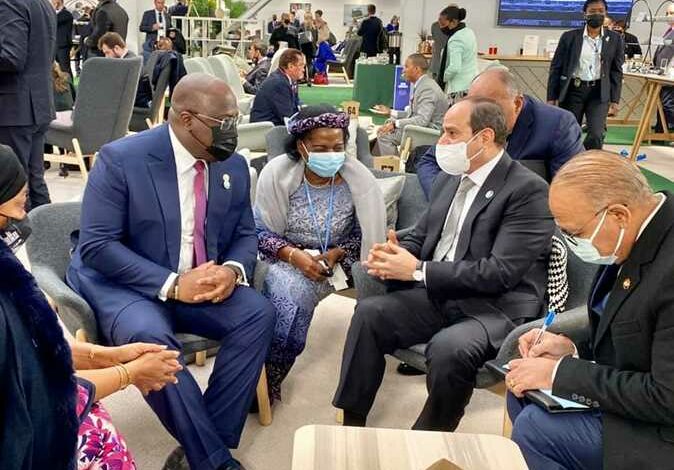 Egyptian President Abdel Fattah al-Sisi stressed his country's position to actively engage in negotiations aimed at reaching a legally binding agreement on filling and operating the Grand Ethiopian Renaissance Dam (GERD).
This is under the jurisdiction of the African Union, in line with the presidential statement issued by the UN Security Council in this regard.
Sisi stressed the firmness of the Egyptian position on this issue, during his meeting with the President of the Democratic Republic of the Congo, Felix Tshisekedi, at the United Nations Climate Summit in Glasgow.
He praised the efforts made by the Democratic Republic of the Congo during its presidency of the African Union in order to achieve the development aspirations of the African continent: its positions in international forums, as well as the endeavors to settle the GERD crisis.
Egyptian presidential spokesperson Bassam Rady said that the two presidents expressed their satisfaction with the distinguished level of bilateral relations between the two neighboring nations.
Whether at the level of coordination and political consultation, or economic cooperation, there is an unprecedented boom in the history of bilateral relations between the two countries.
Sisi said last month that his country is looking forward to reaching a balanced and legally binding agreement on GERD as soon as possible, without any further delay.
An agreement would mean an achievement for Ethiopia's development goals, which Sisi stressed "we understand and even support," while at the same time limiting all environmental, social and economic damages of the dam on Egypt and Sudan.
Egypt and Sudan say they want a legally binding agreement, while Ethiopia says any pact should be advisory. Egypt and Sudan consider the dam a threat to their vital water supplies, while Ethiopia considers it essential for development and doubling its electricity production.
The downstream nations fear possible blows to water facilities, agricultural land, and overall availability of Nile water. Negotiations over the dam between Egypt, Ethiopia, and Sudan have stalled for years, with the three parties ultimately failing to reach any agreements.
The disputed dam is the largest hydroelectric project in Africa, with a cost of more than four billion dollars.