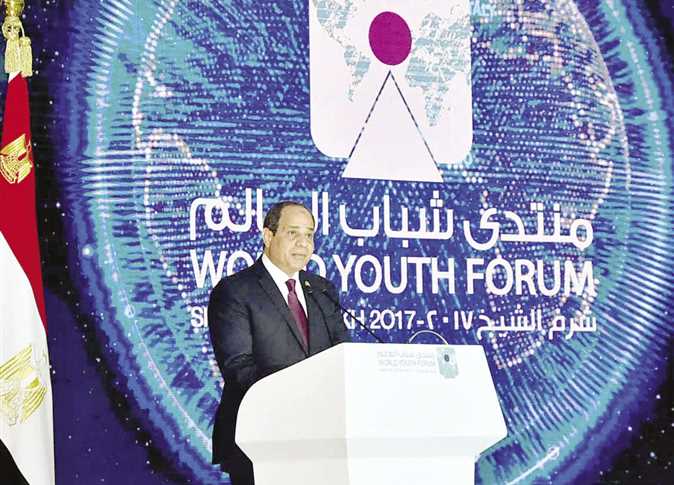 Egyptian President Abdel Fattah al-Sisi on Saturday launched the third edition of the World Youth Forum (WYF) in Sharm el-Sheikh.
Over four days, the forum will discuss important issues such as food security, environment and climate, the blockchain, artificial intelligence, the Union for the Mediterranean, women's empowerment, art and cinema.
Sessions for this edition include "Food Security in Africa: How Do We Achieve the 2nd Goal of the Sustainable Development Goals," "The Effects of Climate Change on Humanity: Impacts & Solutions," "Prospects of Sustainable Development in Africa: Opportunities & Challenges," "How to stay safe in the Digital World?," and "Mediterranean Cooperation in the Energy Sector", among others.
To help devise the program for the WYF's workshops, sessions, and select speakers this year, the forum's management announced their cooperation with some leading international and regional organizations: including the United Nations Industrial Development Organization, the International Organization for Migration, the Food and Agriculture Organization of the United Nations, the International Telecommunication Union, and the Union for the Mediterranean.
This year's WYF also sees the launch of the WYF Labs Stage platform, which includes a group of specialized speakers in entrepreneurship of all kinds – alongside the launch of the second season of the World Youth Theater, under the slogan "Arts – Revival of Humanity".
The World Youth Forum is an annual global forum held in Sharm el-Sheikh in South Sinai.
First held in November 2017, it engaged youth globally in an enriching set-up, allowing them to exchange views and recommend initiatives to decision-makers and influential figures.
Since then, it has become a chance for youth to engage with top policymakers and network with other promising individuals determined to make the world a better place for everyone.
The World Youth Forum is attended by a wide range of participants, including and not limited to heads of states and government, international young leaders, inspiring youth in various fields, prominent international figures and youth groups from around the world.
The second edition of the forum in 2018 saw the participation of more than 5,000 youths from worldwide.
Edited translation from Al-Masry Al-Youm