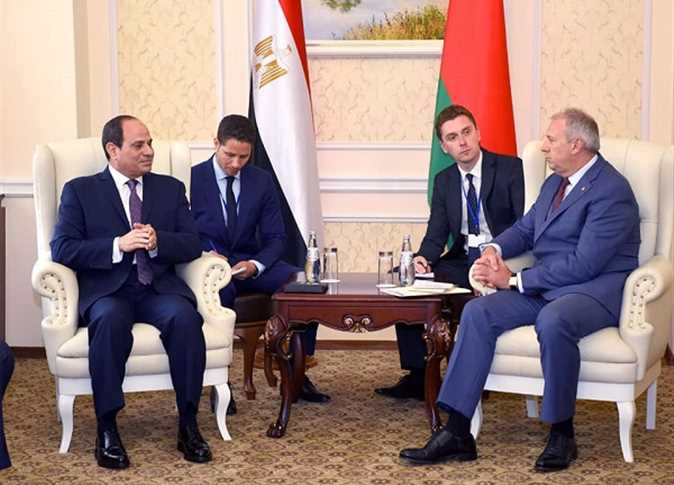 President Abdel Fattah al-Sisi met on Tuesday morning with Belarus's Prime Minister Siarhiej Rumas as part of his official visit to Minsk.
Sisi held extensive talks with the Prime Minister of Belarus. At the outset, he expressed Egypt's appreciation for the warm Belarusian reception, praising the strong Egyptian-Belarusian relations, especially recently, Spokesman for the Presidency of the Republic Bassam Rady said.
Sisi expressed the aspiration to deepen and strengthen bilateral relations, especially at the economic and commercial levels by maximizing the volume of Belarusian investments in Egypt.
Rumas welcomed Sisi and his accompanying delegation and expressed Belarus's appreciation for Egypt at the official and public levels and expressed his pride in the extensive ties between the two friendly countries.
Rumas praised the major national projects being implemented in Egypt, stressing his country's keenness to support Egypt's development efforts through common experiences and joint investment.
Sisi stressed that Belarusian investments and industries have a great opportunity now to proliferate in the Egyptian market, benefiting from the modern infrastructure in Egypt and reaching the African markets, especially in light of Egypt's current chairmanship of the African Union and the free trade agreements that Egypt signed with various regional economic blocs.
Rady added that the talks dealt with a number of regional and international issues of common concern. Rumas praised the pivotal role played by Egypt in stabilizing the Middle East and Africa, especially regarding efforts to counter illegal immigration, promote interfaith coexistence, and support peaceful solutions to existing political crises.
Sisi reviewed Egypt's counter-terrorism efforts from the past years and stressed the importance of exchanging expertise and information with the Belarusian side to face the challenges posed by terrorism to the entire world.
Edited translation from Al-Masry Al-Youm