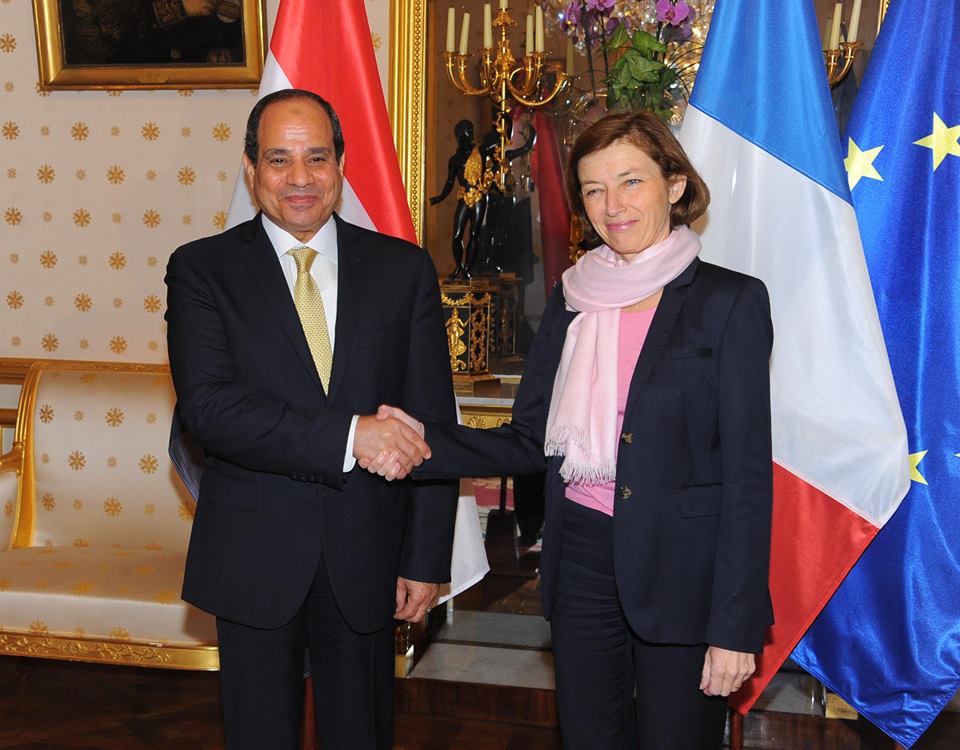 Egypt's President Abdel Fattah al-Sisi on Monday met with French Defense Minister Florence Parly to discuss military and security cooperation and continue bilateral consultation on shared issues.
Sisi told Parly to send his regards to his French counterpart Emmanuel Macron – in a show of the close bond the two nations share.
Parly was honored to meet with Sisi again and conveyed Macron's greetings in turn.
She assured Sisi of the necessity of reinforcing coordination and strengthening relations between the countries, especially regarding military and security.
Egypt represents a pillar of security and stability in the Middle East and Africa, she added.
The meeting was attended by Minister of Defense Mohammed Zaky and the French Ambassador to Egypt Stephane Romatet, the Egyptian Presidency's spokesperson Bassam Rady said.
A number of French companies announced that they would increase investment in Egypt, in a meeting with then-Investment Minister Sahar Nasr back in 2018.
The meeting included representatives from Schneider Electric, Saint Gobain, Carrefour, L'Oreal, NAOS, Mortimer Harvey, Edison, SEB group, Decathlon Group, Orange, Credit Agricole Bank and other corporations.
French companies increased their investments in Egypt by $200 million during 2017-2018.
Egypt and France previously conducted maritime training in 2019, such as the joint military exercise "Ramses 2019" in the Mediterranean Sea. Units from the navy, air forces and navy special forces from both countries participated in air-sea training.
In 2018, Egypt and France carried out the "Cleopatra 2018" naval exercises in the Red Sea, one of the biggest joint marine exercises to have taken place in the Red Sea which saw troops carry out a landing operation on an island.
Several naval units including a French Mistral-Class helicopter carrier, frigates, rocket launchers and anti-submarine aircrafts were used in the training.
Edited translation from Al-Masry Al-Youm