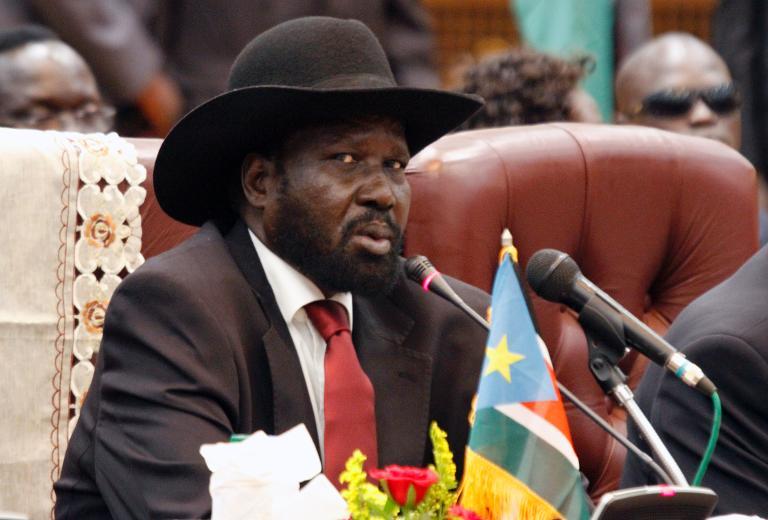 Egypt's President Abdel Fattah al-Sisi met with South Sudan's President Salva Kiir on Tuesday at the Ettihadeya Presidential Palace.
The two presidents discussed the situation of the African continent, the peace process in South Sudan and ways of boosting mutual cooperation.
The two presidents held an expanded session of talks in the presence of Sedky Sobhy, Minister of Defense and Military Production; Sameh Shoukry, Foreign Minister; Mustafa Madbouly, Minister of Housing; and Ashraf al-Shehy, Minister of Higher Education.
During the meeting, Sisi emphasized the special place of the southern Sudanese people in the hearts of Egyptians, historical relations that bind the two peoples, and the distinctive links between the two peoples.
Sisi stressed as well that the achievement of peace in Sudan is a key priority for Egypt. He expressed Egypt's willingness to strengthen relations and increase investments between the two countries.
Sisi praised the strong political will of Kiir to contain the internal conflict in South Sudan and to achieve peace for his people in cooperation with the international community.
The two sides discussed boosting bilateral relations between the two countries in many aspects and fields including the scholarships for South Sudan's students in Egyptian universities; training courses provided by the Egyptian Agency of Partnership for Development; economic development projects such as digging wells, electricity projects, providing medical and food supplies; among many others.
The two presidents tackled the peace process in South Sudan and the importance of adhering to the agreement of peaceful settlement signed in August 2015, as a fundamental mechanism for restoring peace in that region, and stability and prosperity for South Sudan.
They addressed various means of concentrating the efforts of the transitional Government of National Unity, headed by Salva Kiir, to achieve peace.
President Kiir thanked Sisi for Egypt's support to South Sudan in the earlier UN Security Council vote against imposing arms embargo on the country.
Six thousand South Sudanese students are currently studying in Egypt, Kiir said.
He added that there are people who are destroying South Sudan through impeding the peace process, stressing that peace would never collapse, though, in South Sudan as long as there is political will and support for the peace process to go forward.