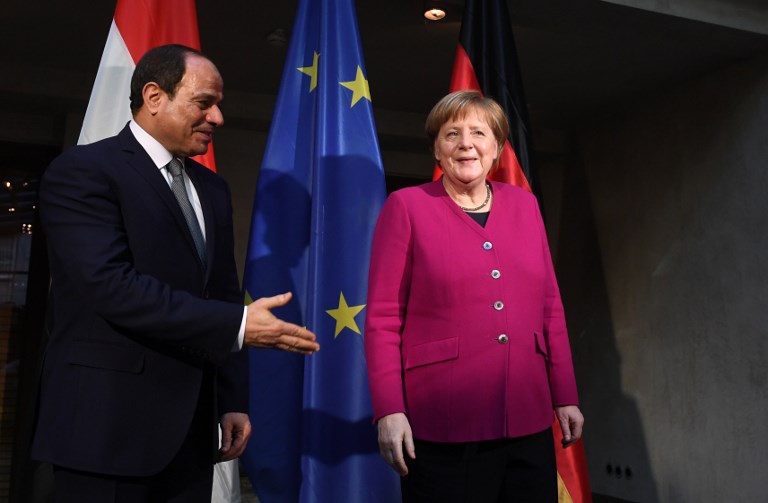 Egyptian President Abdel Fattah al-Sisi praised efforts to enhance Egyptian-German relations during a meeting on Wednesday with German Chancellor Angela Merkel in Berlin, during which the two sides agreed to bolster joint efforts to address the Libyan crisis.
Presidential Spokesperson Bassam Rady said that the meeting witnessed extensive talks between the two countries' delegations, adding that the German Chancellor welcomed the visit of President Sisi to Berlin and appreciates Egypt and Germany's close relationship, especially given the recent surge in economic and trade ties between the two countries.
Merkel stressed that Egypt is one of Germany's most important partners in the Middle East and represents a fundamental pillar of stability and security in the region.
The meeting addressed how best to coordinate with Egypt as a leading partner of the European Union in efforts to combat extremism and illegal immigration, highlighting as well the latest developments related to the ongoing crisis in Libya, which poses security implications for the Middle East and Africa, especially in the Sahel region.
In this regard, the two sides agreed on joint efforts to find a comprehensive solution to the Libyan crisis that takes into consideration all aspects of the conflict, which, according to Rady, should help in the fight against terrorism, protect Libya's resources and national institutions, and limit external interference in the country's affairs.
During the meeting, Sisi also expressed his desire that Germany become more involved in development projects in Egypt across various fields, in addition to working to double the volume of German investments in Egypt and boosting economic cooperation between the two countries.
He pointed to reforms adopted by the Egyptian government to improve the legislative environment as it relates to the investment and business climate in Egypt, highlighting various opportunities made available through major national projects as well.
On Monday, Sisi visited the Reichstag building, the historic seat of the German parliament, where he was received by the President of the Bundestag Wolfgang Schäuble and discussed efforts in Egypt to combat terrorism, extremism, and illegal immigration.
Egypt is Germany's third-largest trade partner in the Middle East, with trade between the two countries reaching its highest level in 2017 at 5.8 billion euros. Meanwhile, total German investment in Egypt currently stands at about $7.4 billion across various fields, including industry, tourism, construction, the service sector, agriculture, and information and technology.
Edited translation from Al-Masry Al-Youm