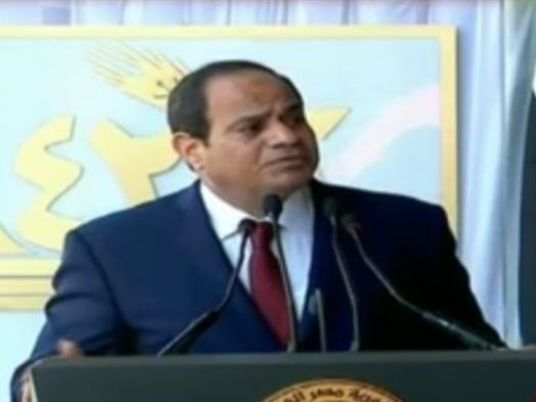 President Abdel Fattah al-Sisi said that changing people's lives for the better is not simple and that the road to improvement requires enduring hardships, adding that he will not allow this suffering to continue even if his popularity declines.
"No one is above the law and its legitimacy; I assure the Egyptian people that they will be able to recover their land," the president said during the inauguration of some national projects in Damietta on Tuesday.
The president addressed the governors and citizens from each governorate where state land has been seized, saying: "We wouldn't be [honorable] men with pride if we let someone stretch out his hand to grab our country's land and we let it go."
He continued: "This is the land of Egypt and whoever takes it without due process is a thief, burglar and robber, whoever he is."
Sisi threatened anyone who tries to take Egyptians' money, whether through manipulation or other means, saying: "For as long as I'm living on this earth and in my place, I will not let anybody take anything [that is not his], and if someone wants to challenge me, then he will be challenging the 'Right of God in the land'."
"Changing the lives of the Egyptian people for the better is not as simple as you might think; there is suffering we have to go through. Or should we let ourselves stay as we are?"
"Should our lives and the lives of our sons remain like this? No, it doesn't work like this. They tell me that people might not love you and your popularity will decline. I say: It doesn't matter, but we will not continue like this, never, as long as I am in my place, I swear to God, I will never let the people remain like this," Sisi said.
Edited translation from Al-Masry Al-Youm