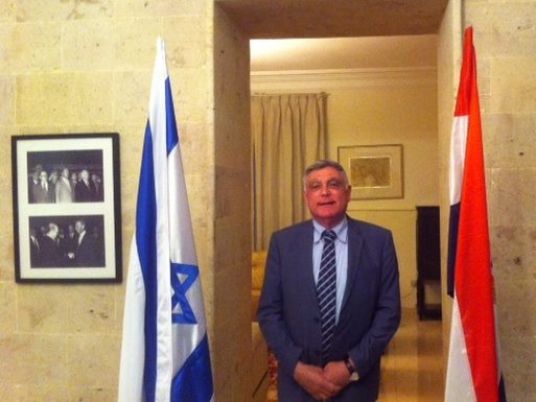 Israel's outgoing ambassador to Cairo, Haim Koren, has praised Egypt's President Abdel Fattah al-Sisi as an "open-minded president who is anxious to spread stability in the region in general and in Egypt in particular."
Earlier this month, Israel approved the appointment of senior diplomat David Govrin, a former staffer at the Cairo embassy, as the replacement for Koren, who asked to return home following a two-year stint.
President Sisi is "aware that the the Middle East's scene has changed, and is fully aware of what Egypt and Israel are going through," the ambassador said in an interview published by the embassy's Arabic-speaking Facebook page.
Koren explained that he decided to end his career in Egypt to have a "rest", given that he headed to Egypt directly after serving as ambassador to South Sudan.
Asked how much impact the embassy had on relations with Cairo, Koren replied that cooperation with Egypt should not be solely about security issues. "We can't just cooperate on the security level. There should be economic, cultural, and even investment relations. … We have to sow that mentality [in both nations] from childhood via schools."
Egypt and Israel signed a peace treaty in 1979 to put an end to years of intermittent warfare. The deal was unpopular with many Egyptians, who called for it to be rescinded following the overthrow of Hosni Mubarak in 2011.
"Camp David should be taught," Koren said, referring to the peace treaty. "Times have changed and leaders need also to change to adapt to the new epoch."
He added, "Egyptians need to benefit from Israeli progress in all fields. … I hope we overcome those difficulties and achieve better relations together."