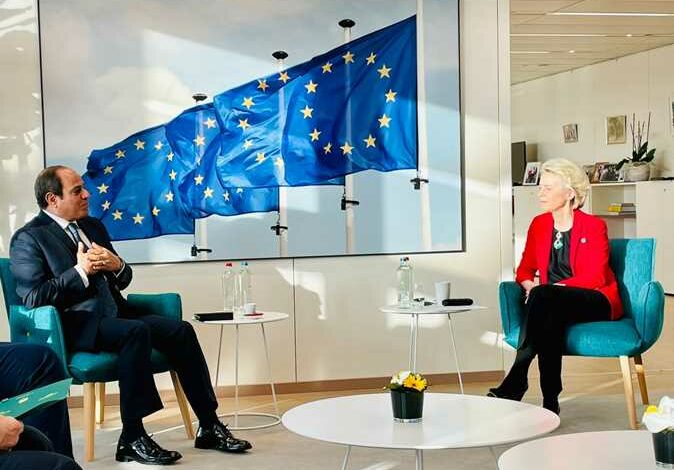 President Abdel Fattah al-Sisi welcomed the visit of European Commission President Ursula von der Leyen today in Cairo onWednesday.
They discussed Egypt-EU relations as well as preparations for the 2022 United Nations Climate Change Conference COP27.
"We seek, through our continuous direct communication and joint work at all levels, to strengthen and intensify the momentum [of cooperation] with the aim of achieving a qualitative leap in our partnership, especially in light of the difficult political and economic conditions that the world is currently going through," Sisi said during a press conference with the EU President.
"Our meeting today was an opportunity to reaffirm that Egypt is proud of the EU as a key partner in various fields.
These are very revelent especially as Egypt is towards a steady path of construction and development through an ambitious future vision.
This is based on our awareness and appreciation of the weight and importance of the EU as an essential economic and political power in the international arena," he added.
Sisi affirmed that his meeting with the President of the European Commission, which touched on joint coordination, is a connection to international efforts to confront the challenge of climate change.
He added, during the joint press conference, that von der Leyen was briefed on Egypt's latest organizational and substantive preparations to host the COP27 global climate summit in November.
This is a valuable opportunity for the international community to address the issue of climate change seriously and agree on executive steps in a way that gives a strong and much-needed impetus to the international efforts to confront the phenomenon of climate change, being a common challenge facing humanity.
Sisi said he discussed with the EU official issues of common interest on international and regional levels.
They also  exchanged views on the current international economic crisis, especially with regard to food security and high energy prices.