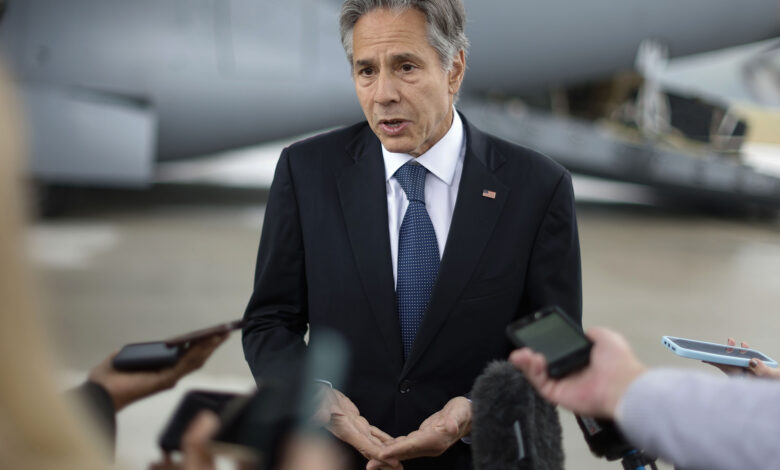 On Monday, President Abdel Fattah al-Sisi  received US Secretary of State Antony Blinken in the presence of Egyptian Foreign Minister, Sameh Shoukry, as well as Daniel Rubinstein, Chargé d'Affaires of the US embassy in Cairo.
Blinken assured Sisi that Washington is counting on close coordination with Egypt under his leadership to restore stability, achieve calm and contain the situation between the Palestinian and Israeli sides, Bassam Rady, the official spokesperson for the Presidency, stated.
Rady added that Sisi welcomed Blinken and extended his greetings to President Joe Biden.
He expressed the extended strategic partnership relations between Egypt and the US, and that he was looking forward to strengthening coordination and consultation between the two sides on various political and security files and regional issues.
Blinken also spoke about the framework of the strategic relations between the two friendly countries.
He conveyed Biden's message that Washington is counting on Egypt under the leadership of Sisi to restore stability in the region especially the Palestinian and Israeli crisis. 
The two officials reviewed recent developments in the Palestinian territories, and the joint efforts and Egyptian endeavors to contain the escalating tensions during the past days.
Sisi stressed that recent developments required working immediately within the framework of the political and security tracks to calm the situation and limit any unilateral measures taken by either parties.
He stressed Egypt's firm position to reach a just and comprehensive solution that guarantees the rights of the Palestinian people in accordance with international references.
A result that solves this pivotal issue in the region and opens prospects for peace, stability, cooperation and construction.
Rady added that during the meeting, visions and viewpoints were exchanged on a number of international and regional issues of common concern, as well as some issues of bilateral relations between the two sides, including the Grand Ethiopian Renaissance Dam crisis.
Sisi stressed Egypt's firm position in this regard through the need to reach a binding legal agreement to fill and operate the dam aiming to preserve the water and development rights of all parties, stressing the importance of the US role in resolving the crisis.