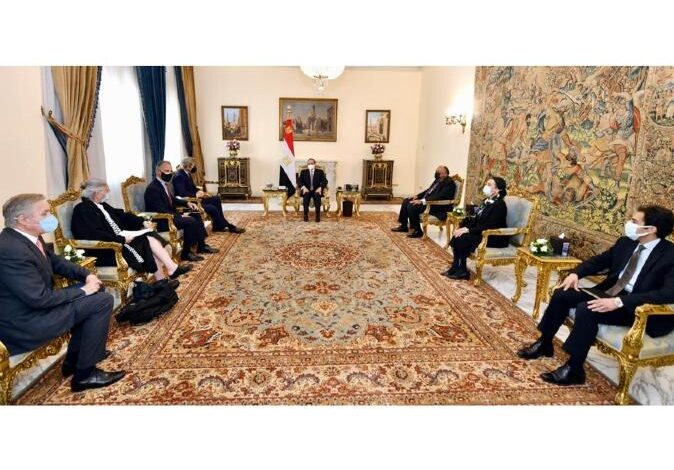 President Abdel Fattah al-Sisi on Monday received the US presidential special envoy for climate John Kerry, to discuss preparations for the UN Climate Change Conference 2022, in the presence of Foreign Minister Sameh Shoukry, Environment Minister Yasmine Fouad as well as Jonathan Cohen, the US ambassador to Cairo.
Sisi welcomed the visit of the US envoy to Egypt, and held the first meeting of the Egypt-US working group on climate change during it as one of the results of the last round of the strategic dialogue between Egypt and the US,  the official spokesperson for the Presidency Bassam Rady, said.
The president expressed his desires to continue consultations with the US on climate change issues during the coming period within the partnership between Egypt and the US, in preparation for the UN Climate Change Conference 2022 (UNFCCC COP 27) scheduled to be held in Sharm El-Sheikh in November.
Rady added that Egyptian and US officials will cooperate to ensure that the summit produces positive results supporting international climate action, especially with regard to reducing emissions, adapting to the negative effects of climate change, and mobilizing climate finance directed to developing countries.
Kerry meanwhile stressed the confidence of the US in Egypt's ability to host the climate summit, and expressed his desire to enhance joint cooperation between the two countries in order to advance international efforts to confront climate change.
The US envoy praised the seriousness of Egypt's efforts towards green transformation, which was reflected at the domestic and international levels through the Sisi's participation in the climate summit of heads of state and government on the sidelines of the Glasgow conference in 2021, as well as joining the One Ocean Summit in the French city of Brest.
Rady added that the meeting witnessed discussions on means to enhance cooperation between the two friendly countries through US companies and institutions joining Egypt's efforts to transform into an energy hub and the ambitious goals it adopts in this field, most notably the production of green hydrogen, solar and wind energies, and low-carbon transportation projects, and issuing and amending the required laws and legislation.